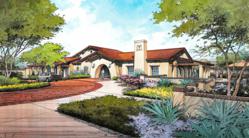 San Juan Capistrano, CA (PRWEB) April 04, 2013
When the inter-generational village of Sendero marks its grand opening in South Orange County this summer, nearly 290 of its brand new homes will reflect one of the hottest trends in homebuilding--the return of the single-story detached residence.
Now under construction are the models for 941 new homes within 11 distinctive residential neighborhoods, slated to open early this summer at Sendero the first mixed-use residential village within the new master-planned ranch community of Rancho Mission Viejo. Approximately 290 of these homes have been designed as primarily single-story, single-family detached residences, all situated within Sendero's gated 55+ enclave of Gavilan.
"The homes at Gavilan represent one of Orange County's newest and largest offerings of single-story detached homes in years," said Paul Johnson, Sr. Vice President of Community Development for Rancho Mission Viejo, LLC, stewards of Rancho Mission Viejo and community master planners/developers. "Today in America, an adult turns age 60 every seven seconds. That's one in four Americans; and they represent the largest population group in U.S. history. In addition, consumer research shows that the 55+ crowd is very excited about single-level living, especially in brand new homes situated in communities designed to foster interaction among residents of all ages and interests. This is the foundation of Sendero's inter-generational living, right here on The Ranch."
Encompassing 23,000 acres in South Orange County, Rancho Mission Viejo is comprised of more than 17,000 acres of permanent open space and approximately 6,000 acres of future residential and mixed-use development. The Ranch is Orange County's last working ranch, home to the open spaces of The Reserve at Rancho Mission Viejo and the broad range of new homes now under construction within the village of Sendero and its gated 55+ enclave of Gavilan.
"The incredible sales success of Warmington Homes' The Legacy Collection (luxury single-story residences in Ladera Ranch's gated village of Covenant Hills) signaled that there's a strong market for single-level living among all consumer segments here in South Orange County," said Johnson. "Among South County's 55+ crowd, the demand is increasing for single-story detached homes featuring open, airy, and uncluttered floorplans, spacious gourmet kitchens, inviting courtyards, and covered patios for true indoor-outdoor living. And, that's just what people will discover inside the homes at Gavilan."
Johnson noted that the four neighborhoods of Gavilan will participate in the simultaneous grand opening of all Sendero neighborhoods in late June of this year. To learn more about Sendero and the gated 55+ enclave of Gavilan, homeshoppers are encouraged to visit http://www.RanchoMissionViejo.com and sign-up as Pathfinders to receive invitations to special events and model home previews.
Among the homes to be constructed at Sendero are a variety of townhomes, duplexes, courtyard homes, and a broad range of single-family detached homes, designed in distinctive Spanish Heritage, Western Ranch, and Ranch Adobe architectural styles. Interiors will range from approximately 1,000 to nearly 3,000 square feet with a host of open and flexible floorplan arrangements designed to foster California-style indoor/outdoor living. Prices are anticipated to range from the $400,000s to under $1 million.
In preparation of Sendero's grand opening, the social and recreational core of the village is also under construction. Called "El Prado," this heart of the village will include the Guest House (information center and future community hall) which will open onto a large plaza and village green and provide access to the Ranch House (open to all residents of Sendero) and the Hacienda (exclusive to Gavilan's 55+ residents and their guests). Plus, on the eastern edges of Sendero will be The Outpost where residents will celebrate the ease of life on The Ranch around an outdoor bar adjacent to a pool and spa with barbeque station and two fire pits, bocce court, outdoor dining space and hammock garden.
Additional amenities planned for Sendero include a 15-acre community park, the vegetable and fruit gardens of Sendero Farm, neighborhood parks, athletic fields, hiking/biking trails accessing Reserve trails and a County Regional hiking and biking trails network, the 10-acre Ranch Marketplace retail plaza, a five-acre mixed-use commercial area, and a fire station.
Rancho Mission Viejo is located in the heart of South Orange County, just 2.3 miles from downtown San Juan Capistrano and five miles from San Clemente and Doheny State Beach, with easy access provided to the employment and retail centers of Ladera Ranch, Mission Viejo, Rancho Santa Margarita, Irvine, and other Orange County areas.
Sendero is the first of multiple villages planned to be developed on a total of 6,000 acres of The Ranch. Collectively, over the next two decades, these villages are expected to offer 14,000 homes (including 6,000 55+ new-home residences) and up to five million square feet of non-residential uses. In addition, schools, parks and recreational facilities, shopping and employment centers will be developed, as well as an inter-connected system of arterial roadways and hiking/biking trails carefully integrated with some of the Ranch's agrarian spaces and natural habitat.
Approximately 75% of The Ranch will be preserved as part of a larger habitat conservation area known as The Reserve at Rancho Mission Viejo and 25% will be developed into multiple villages. Combined with additional open spaces already dedicated by Rancho Mission Viejo, The Reserve will grow over time to nearly 21,000 acres. Ultimately, The Reserve will be combined with County-owned lands to form the 33,000-acre Southern Subregion Habitat Reserve, one of California's largest and most diverse habitat reserves.
_____________________
Rancho Mission Viejo, LLC is a privately held, family-owned and -operated company responsible for the ranching, farming, planning, development, and financial management of the remaining 23,000 acres of Rancho Mission Viejo, situated in unincorporated South Orange County, CA. Since 1882, members of the O'Neill/Avery/Moiso family have owned and managed The Ranch which once exceeded 200,000 acres and now includes the family-developed cities and communities of Ladera Ranch, Las Flores, Mission Viejo and Rancho Santa Margarita as well as such important places as Caspers Wilderness Regional Park, the Starr Ranch Audubon Sanctuary, O'Neill Regional Park and Marine Corps Base Camp Pendleton.
Development on the Ranch is a partnership between Rancho Mission Viejo, LLC (managing partner) and DMB Associates, an Arizona-based, diversified real estate company with commercial property/resort/recreational/primary home community holdings throughout Arizona, California, Hawaii and Utah.
To learn more about Rancho Mission Viejo and The Reserve at Rancho Mission Viejo, visit http://www.RanchoMissionViejo.com. To learn more about DMB, visit http://www.DMBInc.com.