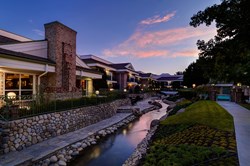 The package is designed to encourage visits to national parks in the American West.
Bishop, California (PRWEB) April 09, 2013
With three national parks nearby – Yosemite, Death Valley, and Sequoia & Kings Canyon – Bishop, Calif., makes a perfect home-away-from-home for visitors looking to experience the area's natural wonders. And now, to help promote national park travel, Bishop Creekside Inn, #1 rated on TripAdvisor, is offering a 10-percent discount to all guests visiting the parks on the National Park Service Fee-Free Days.
Upcoming 2013 dates that will allow travelers to visit national parks without paying the usual entrance fee – and that also will be eligible for the special lodging discount for Creekside Inn visitors are as follows:

April 22-26 – five days during National Park Week
August 25 – National Park Service Birthday
September 28 – National Public Lands Day
November 9-11 – Veterans Day weekend
The Creekside Inn at Bishop, Calif., features air conditioning, a complimentary hot breakfast, a year round outdoor hot tub with seasonal pool and lounging areas and 24-hour friendly staff. The Creekside Inn is one of four hotels in the boutique hotel group Western Inns, which is currently offering the special discount for all of its properties on the no-entrance-fee dates.
"Our hotels are all located near national parks and we want to support and protect our national gems," said Tod McClaskey, owner of the Western Inns hotel group. "National Parks Free Days provide an outstanding incentive for national parks visits, and we're happy to boost that incentive with nearby lodging discounts for a number of our Western parks."
Creekside Inn, is also participating in an additional National Parks Package along with sister properties owned by Western Inns that are located near national parks in Oregon, Washington and Wyoming. The package is designed to encourage visits to national parks in the American West, including some of the United States' most popular such as Yellowstone National Park, Olympic National Park and Crater Lake National Park. Guests will be provided with a "national parks tour card," and will receive increasing discounts from 10 – 25 percent off room rates as they visit multiple Western Inns properties. For details, visit: http://www.prweb.com/releases/2013/2/prweb10480294.htm
The Western Inns, base camps for America's national parks, are boutique hotels owned and operated by Tod McClaskey. The hotels are known for their outstanding customer service and comfortable accommodations. All of the properties are top rated on TripAdvisor. For additional information on the properties, visit http://www.wyominginn.com/western-inns-portfolio/sister-properties.htm.
Company Information: Conveniently located in the heart of downtown Bishop, the Creekside Inn boasts a casually elegant atmosphere, friendly staff, and complimentary warm, freshly baked cookies – just a few of the elements that make it a favorite on TripAdvisor. Bishop, Calif., is situated in the beautiful Owens Valley, surrounded by the majestic Sierra Nevada and White Mountain ranges. Guests at the Creekside Inn are able to enjoy the hotel's dramatic mountain views as well as the incredible variety of outdoor pursuits including the nearby national parks, Mono Lake and Mammoth Lakes. The inn's richly furnished lobby, featuring a ranch-style fireplace, is an ideal place for relaxing or gathering with friends and family. For information, visit http://www.bishopcreeksideinn.com or call 1800.273.3550.
Media Contacts: Darla Worden, WordenGroup Public Relations, darla(at)wordenpr(dot)com, 307.734.5335; or Sean Nolan, General Manager, Bishop Creekside Inn, sean(at)westerninns(dot)net, 760.872.3044