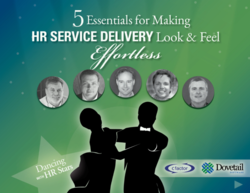 We believe organizations - more than ever before - are faced with finding new solutions to creating not only an efficient model for HR service delivery, but also delivering on the promise of providing an engaging environment in which employees can thrive
Saskatoon, SK (PRWEB) April 04, 2013
cfactor Works Inc. (cfactor), a developer of socially infused Human Resource technologies, and Dovetail Software, a worldwide leader in SaaS HR case management, announced today the release of a new eBook Dancing with HR Stars: Five Essentials for Making HR Service Delivery Look and Feel Effortless. With cfactor and Dovetail Software leading the way in this eBook, readers gain an in-depth perspective from five experts who provide practical insights on how to model HR service delivery for success, ultimately yielding maximum efficiencies while enhancing HR's strategic capabilities.
"We believe organizations -- more than ever before -- are faced with finding new solutions to creating not only an efficient model for HR service delivery, but also delivering on the promise of providing an engaging environment in which employees can thrive," said Cary Schuler, CEO of cfactor and HR 'Star.' "Providing impactful HR solutions that deliver an outstanding employee experience is one of cfactor's core values. As such, Dancing with HR Stars provides an in-depth look at all the components necessary to make your HR service delivery perform at the highest level to allow HR the opportunity to focus on more strategic initiatives."
Whether you are seriously re-thinking your model, or you are simply exploring how you can improve on your approach, there is something for every HR professional in this comprehensive eBook. The five expert 'judges' share their in-depth knowledge on how to:

create the right model and leverage effective technologies relevant to your needs
support positive change management and technology user adoption throughout the organization
deliver personalized service, employing social tools to foster engagement and connectivity among employees
benchmark performance and make continual improvements
Stephen Lynn, CEO of Dovetail Software and co-author of the eBook said "One of the purposes of our solution is to enable HR to handle a higher volume of employee needs with fewer HR resources. A huge component of doing that and doing it well is building an HR Service Delivery Model that runs smoothly. When all the moving parts come together successfully, HR Service Delivery should look like an effortless dance, hence the theme of the eBook."
Personal interviews with the authors will be posted over the coming weeks on the Dovetail and cfactor blogs. In addition, Dovetail will join cfactor in hosting a Human Capital Institute webinar "How to Run HR Shared Services Like a Thriving Business" in which eBook authors Jim Scully, Founder of the Shared Services Institute, Cary Schuler, CEO of cfactor, and Kane Frisby, Chief Strategy Officer of Dovetail Software will discuss key concepts in the eBook and provide an opportunity for audience members to ask questions.
To register for this complimentary webinar, visit http://bit.ly/Xryopj.
About cfactor Works Inc. (cfactor)
Since its inception, cfactor has been recognized by organizations like Ernst & Young, the Canadian Innovation Exchange and the SIIA / CODiE Awards for its game-changing workforce management, talent management and performance management enterprise software. Working primarily with mid-to-large enterprises that represent hundreds of thousands of employees across a variety of industries, cfactor consistently delivers social enterprise products that are highly configurable, improve employee performance and deliver a proven ROI.
cfactor is a socially-enabled, integrated human resource management, communication and business collaboration suite. The cfactor system-of-record uniquely leverages existing systems while delivering engaging, productive employee experiences for hundreds of thousands of employees. For more information, visit http://www.cfactorworks.com.
About Dovetail
Dovetail Software delivers a SaaS-based HR case management and help desk solution that manages and tracks employee interactions with HR—including employee grievances and general policy questions, payroll and benefits, recruiting-related questions and compliance issues. Dovetail customers cite cost reduction of supplying support, increased productivity, access to complete records of employee interactions with HR, and visibility into analytics that help them improve their processes as key product benefits. For more information, visit http://www.dovetailsoftware.com.