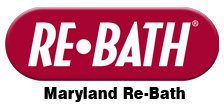 Baltimore, MD (PRWEB) April 05, 2013
Maryland Re-Bath offers $400 off any new Re-Bath System installation to help homeowners revamp their old bathrooms this spring in a budget-friendly way.
A Re-Bath system includes a bathtub base and a wall surround made of proprietary DuraBath SSP material that possesses such qualities as resistance to stains, scratches and cracks, as well as durability.
"Our Re-Bath systems are quite popular among our customers," mentioned Robert Bollinger, the owner of Maryland Re-Bath. He added that this popularity is largely due to the fact that DuraBath SSP is easy to install and care for.
According to the recently released National Kitchen and Bath Association's (NKBA) 2013 style report, the average consumer spending on bathroom renovation projects in the U.S. and Canada increased from $16,475 in 2011 to $18,850 in 2012.
"While many homeowners plan to completely restructure their bathrooms replacing every part, some just want a clean look without gutting the entire space, and that's where Maryland Re-Bath can help," said Bollinger.
He mentioned that while his team does build luxurious bathrooms with expensive finishes and custom tile work, the majority of customers come to Re-Bath looking for a budget-friendly way to update an old unattractive bathtub, shower or stained tile. The current $400 off promotion is meant to help more Maryland homeowners move their remodeling projects from the planning to the action stage.
"Some people might think that installing a Re-Bath system essentially means covering up the damage, but this is not true and our installers are instructed to remove any mold and repair any existing damage before proceeding with the installation," pointed out Bollinger.
The coupon for the $400 off a new Re-Bath system can be accessed and printed out through the company's website. There is a limit of one offer per customer.
About Maryland Re-Bath:
A Maryland bathroom remodeling service provider, Maryland Re-Bath is one of more than 200 franchisees of Re-Bath, LLC. In business since 2000, Maryland Re-Bath provides a range of services for homeowners seeking bathtub replacements, tub to shower conversions or a complete bathroom renovation. Serving Anne Arundel, Howard, Baltimore, Carroll, Frederick, and Washington Counties, Maryland Re-Bath is an accredited member of Better Business Bureau. For more information about the company, please visit http://www.marylandrebath.com.