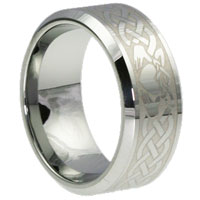 (PRWEB) April 05, 2013
http://www.ForeverTungstenRings.com is offering a 15% off coupon until April 15th.
http://www.ForeverTungstenRing.com, tungsten rings retailer and manufacturer of unique wedding bands is offering 15% off all in stock merchandise until April 15th. The coupon code tungsten15 is being added to help people make ring purchases in time for summer weddings.
Forever Tungsten Ring is one of the largest tungsten ring and wedding bands retailers on the internet. The large selection includes all the classic styles that people love including more unique styles such as colored tungsten, laser engraved, carved and beautiful inlays. The website also has a large exclusive collection of Celtic rings which features most of their best sellers. The Celtic collection includes the bestselling Claddagh ring, the carved Mo Anam Cara ring, Irish love knot rings and many more. Forever Tungsten Ring also focuses on both men and women making shopping for wedding bands a pleasant experience for all.
About Forever Tungsten Ring:
Forever Tungsten Ring™ has been a leader in Tungsten Carbide Jewelry since 2005. Forever Tungsten Ring is a member of the Better Business Bureau (BBB) and offers a secure shopping environment for their buyers. Forever Tungsten Ring offers a Lifetime Warranty with all purchases.