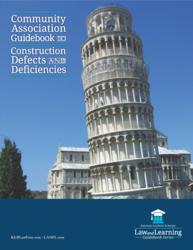 "We often hear about developers who take far too long to turn the reins over to the people actually living in their communities,"
Margate, FL (PRWEB) April 04, 2013
Every year, countless communities in Florida are turned over from developer control to the association members who can then chart their own destiny for their communities. Transition from developer control is a significant and sometimes daunting occurrence in a community's lifespan. The purpose of the Community Advocacy Network's Developer Turnover Survey is to determine the typical ease or difficulty of turnover, what factors prove helpful during the process and whether or not new communities suffer from long-term problems after the developer finally exits. The feedback obtained will assist in both identifying those long-term problems and providing support and solutions for the individuals who have been grappling with these issues in shared ownership communities. Pre-transition communities will also benefit from the insights gained as fledgling community association leaders are able to educate and prepare themselves for their pending transition and the changes that follow.
"We often hear about developers who take far too long to turn the reins over to the people actually living in their communities," said Donna DiMaggio Berger, Executive Director of CAN. "Even worse, when transition day arrives, many folks are completely unaware of the scope of a developer's responsibility to ensure the long-term success of that community both in terms of the product that was built and the funds that were collected."
In conjunction with the release of CAN's Developer Turnover Survey, CAN has also released the latest guidebook in its Law and Learning Center Guidebook Series: Construction Defects and Deficiencies. Copies of this guidebook are available at no charge online at: http://www.constructiondefectguidebook.com. Bound copies are also available by contacting CAN at info@canfl.com.
CAN's Developer Turnover Survey will be available online at http://CANsurvey.questionpro.com from April 4th to June 3rd, 2013. Results will be published in mid to late June, 2013.
Since its inception in 2007, the Community Advocacy Network (CAN) has advocated on behalf of all types of shared ownership communities who wish to ensure that their unique needs are heard and understood by Florida's public policy makers. In addition to assisting its members through targeted advocacy campaigns at all levels of government, CAN works throughout the year, gathering and distributing information that is vital to effective community operations throughout Florida.