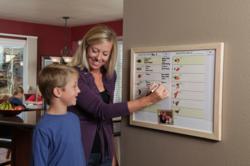 Denver, Co (PRWEB) April 05, 2013
Tailor Made Whiteboards has announced the worldwide release of a new line of custom whiteboards for home use. Tailor Made helps busy families simplify their lives with customizable, high-quality whiteboards to organize the activities of hectic households.
Tailor Made Whiteboards offers a wide variety of options for household Chore Boards, Activity Planners, or Menu Planners. Tailor Made's attractive dry-erase boards are personalized to match each home's unique décor, and can be easily changed and updated over many years of use without ever buying a new whiteboard. Add a personal photo to any design at no extra charge, and make a Tailor Made Whiteboard unique!
Personalization Options:
Tailor Made Whiteboards feature many personalization options to choose from. Large and small sizes allow for big, bold expressions or space saving options. Each Tailor Made Whiteboard comes elegantly framed in maple, walnut, oak, or black finishes to complement any home décor. All whiteboards have an option to include a matching tray as well; perfect for holding markers, erasers, keys, or notes! Add a favorite photo to any Whiteboard design for free! Be it a family photo, a special picture of a loved one, or a favorite pet, customers can add a personal touch to any Tailor Made Whiteboard!
Changeable Graphics:
All Tailor Made Whiteboards can be ordered with a frame style that will allow customers to change the look of the whiteboard at will, without having to buy a new whiteboard! Changeable boards are easy to use and are designed to work with all frame finishes. Turn a menu whiteboard into a scheduling calendar without having to buy a new whiteboard! Change the function of the whiteboard quickly and easily by simply swapping out different artwork designs. With various designs to choose from, a Tailor Made Whiteboard can change to fit evolving lifestyles or home décor. Add a holiday design or update a family picture and keep the whiteboard up to date.
Pricing and Availability:
Tailor Made Whiteboards are available for sale on http://www.tailormadewhiteboards.com. Pricing starts at $49.95.
About Tailor Made Whiteboards:
Tailor Made builds high quality whiteboards designed for wide appeal. Tailor Made Whiteboards are built in the USA and designed to last for many years and through many changes to household routines. Ultimate satisfaction is guaranteed.
Contact:
Tailor Made Whiteboards
Mark Slattery, Public Relations
(888) 280-9494
info(at)tailormadewhiteboards(dot)com