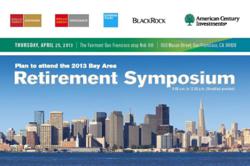 Target-date funds have grown substantially, with savers investing $55 billion into the funds last year.
Many investors have learned the hard way that not all target-date funds are the same.

San Francisco, CA (PRWEB) April 04, 2013
The event for 401(k) and 403(b) retirement plan sponsors, trustees, fiduciaries and retirement plan committee members will feature best practices from one of the nation's top retirement plan advisor teams. It will also feature fiduciary topics including recent fee disclosure changes, plan and fee benchmarking best practices, how to evaluate target date and life cycle funds, and maximizing overall plan performance.
The event also features a Target-Date Fund Panel including Scott Wittman , CIO, American Century Investments, Theodore Enders, Senior Portfolio Strategists, Goldman Sachs, and Jim Lastoskie, Director, BlackRock. Hearing this diversified panel speak about the most prevalent investment vehicle for participants provides plan sponsors and fiduciaries with the opportunity to gain different perspectives that is seldom heard. The panel will discuss their observations of the market and industry, the challenges plan sponsors face in evaluating target-date funds, and provide solutions for how to measure their success.
The 2013 Bay Area Retirement Plan Symposium is approved for three hours of CPE/CPA credit and two and a half hours of HRCI/SPHR/PHR/GPHR general credits.
The 2013 Bay Area Retirement Plan Symposium is Thursday, April 25th, 2013 from 9:00 am to 12:30 pm at The Fairmont San Francisco atop Nob Hill. For more information about the speakers or to RSVP, please click here or contact Alex Mangubat at amangubat(at)maxis-solutions(dot)com or at (619) 795-2330.
About Xponential Growth Solutions
Xponential Growth Solutions (http://www.xgrowthsolutions.com) provides matchmaking services for the retirement plan industry partnering with forward thinking plan sponsors, industry leading advisors and service providers. XGS training and educational summit opportunities present a forum to empower sponsors to help America reach their retirement goals one retirement plan at a time. For more information, please contact Jon Freye at jfreye.xgrowthsolutions.com or (619) 795-3920.