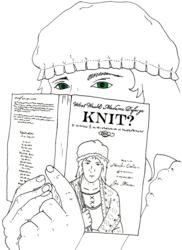 This release model gets the patterns in to the hands of knitters faster
McLean, VA (PRWEB) April 04, 2013
Cooperative Press, the independent Ohio-based publisher, releases What (else) Would Madame Defarge Knit? the second book in the What Would Madame Defarge Knit? series at 3 pm EDT tomorrow. The book's Friday eBook release has given Heather Ordover, the book's editor, an opportunity to test out some new social media strategies for publicity and promotion. "Given the increasing popularity of social media over the last two years," Ordover said, "and specifically the huge numbers of knitters in the online knit-and-crochet community, Ravelry, we are curious to see if the number of knitters buying the book in the first 24 hours will total more than the first month of the previous book's life." To capitalize on the viral nature of social media, this book's release is accompanied by special offers that will only last for one day. "After that first twenty-four hours, the book goes back to being a book and all the extras will be taken off the web," Ordover said.
The book is being published in two stages: digital book first, print book to follow. "This release model gets the patterns in to the hands of knitters faster," Ordover says, "which is what we (and they) really want." More promotions, book signings, speaking engagements, Knit-a-Longs, and classes are planned for the first few months after the book's release, but the first twenty-four hours will be a new kind of challenge for the editor. Ordover is also the host of the long-running podcast CraftLit and is looking forward to tapping into her audience's enthusiasm for literature and knitting. She plans to share designer round table discussions in bonus episodes. "There are a lot of bookish knitters out there," Ordover laughs. "I can't wait to see what they knit next."
What (else) Would Madame Defarge Knit? is the second book in a series published by Cooperative Press.