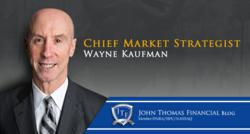 New York, NY (PRWEB) April 05, 2013
Chief Market Analyst Wayne S. Kaufman talks about on the John Thomas Financial blog Investors Growing Nervous Ahead of Earnings Season. Investors seem to be growing concerned as stock volatility increases due to hints of a potential slowdown in the economic recovery and tension regarding North Korea.
After a terrific first quarter that saw the S&P 500 gain 10.03% investors may believe the second quarter of 2013 can't show strong gains. John Thomas Financial would like to point out that in the current bull market we have had back‐to‐back double digit quarterly gains in Q4 2011 and Q1 2012,Q3 and Q4 of 2010, and Q2 and Q3 of 2009.
In data going back to 1980 the S&P 500 has had double‐digit gains in a quarter nineteen times prior to this. Following these strong quarters the next quarter was only negative three times, with the worst loss a drop of 3.29% in Q2 2012, and that was after two consecutive quarters with double‐digit gains. The other two times the losses were negligible at 1.08% and 0.06%. The conclusion issimple. Based on historical data strong quarters are just notfollowed by very weak ones, as can be seen in the table below.
Read The Full Article from the John Thomas Financial
To download the PDF
John Thomas Financial is not perma‐bulls and will react to what the market tells us. The upcoming earnings season will tell investors if they should stay the course or if the long‐awaited correction is here. Until then John Thomas Financia will remain bullish longer‐term due to an improving (too slowly, but improving nonetheless) economy, attractive equity valuations, the very positive breadth of the recent market action, and the globally synchronized program of asset purchases by central banks. If first quarter earnings season is nearly as positive as fourth quarter was, with nearly 69% of the S&P 500 beating estimates,thatshould calmthe nerves ofinvestors.
I, Wayne S. Kaufman, hereby certify that all of the views expressed in this research report accurately reflect my personal views about any and all of the subject issuer(s) or securities. I also certify that no part of my compensation was, is, or will be directly or indirectly related to the specific recommendation(s) or view(s) in this report.
About John Thomas Financial:
John Thomas Financial, a member of FINRA and SIPC, is an independent broker-dealer and investment banking firm headquartered in New York City's Wall Street district. Emphasizing a client-centric approach to managing all aspects of its business, John Thomas Financial and its affiliates offer a full complement of retail brokerage, private wealth management, and corporate advisory services tailored to the unique needs of its clients. The firm publishes the Fiscal Liquidity Index, a unique daily indicator that looks at government spending and its impact on the financial markets, The Kaufman Report, a weekly technical stock market analysis, and The John Thomas Financial Economic Outlook, a report analyzing consumer sentiment, market outlook, credit cycles and dozens of other market influences.
For timely insights, news, and commentary on economics and financial markets, visit the John Thomas Financial Blog or join the John Thomas Financial community on Twitter and Facebook.
Important Disclosures:
The information provided in this publication is for informational purposes only. Investors should consider this report as only a single factor in making their investment decision. This informational report is not an offer to sell or a solicitation to buy any security. This report has been prepared as a matter of general information. It is not intended to be a complete description of any company, and is not an offer to buy or sell any security. All facts and statistics are from sources believed to be reliable, but are not guaranteed as to accuracy. Before acting on the materials herein, you should consider whether it is suitable for you particular circumstances and, if necessary seek professional advice investments involve risk and an investor may incur losses. Past performance is no guarantee of future performance. Trading and investment decisions are the sole responsibility of the reader.
By Wayne S. Kaufamn