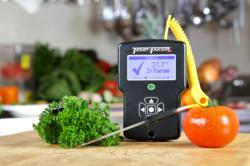 Even the 'I DON'T LIKE CHANGE LADIES' are addicted. IT'S GREAT!! The time saved is wonderful. Thank you again!!
Palm Bay, FL (PRWEB) April 06, 2013
Innovative Technologies by Design's New Product Launch —Innovative Technologies by Design, Inc. announces the nationwide launch of their newest product, the all new Temp-Taker 3™ Automated Food Temperature Management Solution.
INNOVATIONS IN TEMP-TAKER 3™
The advanced Temp-Taker 3™ system delivers fast temperatures and customizable options for taking, correcting, and displaying temperatures. The Temp-Taker 3™ handheld offers the most functionality of any other electronic temperature logging device in the industry! Features include False Measurement Detection, customizable HACCP question checklists, User log-in PINs, audio/visual alarm indicators, and much more.
The one-of-a-kind 'False Measurement Detection' (FMD) system eliminates human error. FMD identifies and flags measurement falsification in order to alert supervisors of personnel not following procedure. The Temp-Taker 3™ is the first on the market to include an integrated HACCP checklist. This feature allows users to enter their own custom operations, maintenance, food safety, and other questions that need to be answered by staff daily. Also included in the Temp-Taker 3™ software is the new support for Time in Lieu of Temperature (TILT). Customers that implement a TILT policy can now automate this operation using the Temp-Taker 3™ system.
The handheld's large memory and efficient data-storage algorithms can store 2,000 different food items and still have the capacity to save more than 6,000 temperature, checklist, and security events. It also maintains valuable statistical information to help supervisors monitor worker activity. Combine all of this with a user friendly display and a one-step process for uploading temperatures to your PC and you have the most capable electronic handheld HACCP device available on the market.
ITD's state-of-the-art software allows customers to mold Temp-Taker 3™ into their own perfect solution. The completely redesigned PC software includes an easy to use interface that ensures a quick and intuitive setup. It offers a highly customizable and filterable data viewer displaying up to 17 different event parameters that can be printed in custom reports or exported to Excel. The Temp-Taker 3™ system arrives ready to use with factory settings, or customers can customize it to fit their programs perfectly.
THE TOTAL HACCP FOOD SAFETY SOLUTION
Food borne illnesses claim over 3,000 lives a year. Restaurants can put their customers' safety first by using HACCP Food Safety Products to prepare, label and store food products properly to reduce the growth and spread of bacteria. The original Temp-Taker and Temp-Taker2 have been a huge hit with customers like Carol Dickey, Cafeteria Manager at Hardee County Schools in Florida, who wrote: "Just a quick note to let you know how well the Temp-Taker™ has been working for us. Even the 'I DON'T LIKE CHANGE LADIES' are addicted. IT'S GREAT!! The time saved is wonderful. Thank you again!!"
SIMPLIFIES FOODSERVICE INSPECTIONS
Foodservice managers have found that the Temp-Taker 3™ helps them pass health inspections with flying colors. Temperature logs for each product can be stored on a computer and easily printed out for inspectors at the touch of a button. "Keep hot foods hot and cold foods cold" is more than just a popular saying in the food service industry. It is the only way to prevent food borne illnesses and ensure the quality and safety of the food an establishment is serving. ITD's advanced food temperature management products reduce human error and can drastically improve a restaurant's HACCP temperature management processes.
RESULTS
Kathy Robertson, Director of Food Services for Bells ISD Texas says, "We all have really enjoyed the freedom that the Temp-Taker has given us. Once the information is put in the computer and loaded onto the Temp-Taker, all we do is take temps. No writing or looking for the paper or pencil. It is a great time saver and there is no cheating on the temps. We are very satisfied with your product. Thank you again for working with us."
CONTACT US TODAY
Innovative Technologies by Design, Inc. specializes in creating solutions to simplify food safety management. With deep roots in food service and small beginnings as food service managers, the founders of ITD have personally experienced the day-to-day obstacles that occur while trying to deliver safe and delicious food to consumers in an efficient manner. ITD has now helped streamline food prep and safety management in thousands of locations. Major chains such as Subway, Panera Bread, Sonic, and many hospitals and schools trust ITD products to keep their food safe and their consumers happy. To find out more about Temp-Taker 3™ visit ITD's website at: http://itdfoodsafety.com.
For more information, contact:
Jason Mobley, President
Innovative Technologies by Design, Inc.
4680 Lipscomb Street NE, Suite 1
Palm Bay, FL 32905-2928
P | 321.676.3194
F | 321.674.7018