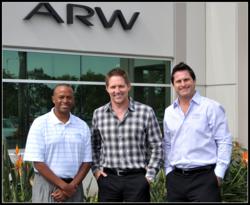 I am excited to join the team at Antis Roofing and Waterproofing, Inc. The ARW family has been around for over 20 years, and has a great company culture with a focus on customer service and quality workmanship.- ARW VP of Sales Akeyy Holland
Irvine, CA (PRWEB) April 05, 2013
Antis Roofing and Waterproofing, Inc. has announced the addition of Akeyy Holland as the new Vice President of Sales. The hiring is the result of growth within their market, and will help position the contractor service provider, headquartered in Irvine, for continued rapid growth with Mr Holland's expertise in sales management.
Antis Roofing and Waterproofing, Inc. has a strong brand within the HOA and Managed Property arena of southern California due to premier marketing and a focus on customer service. Over the past two years, the firm has positioned itself for change by instilling improved processes including finance, work-flow and now sales. According to the president of ARW, Mr. Charles Antis, "We have worked hard to be 'situationally great' in production and sales. We are now transforming into a company that is 'systematically great' by introducing Akeyy's experience in the sales and customer service process." Dean Morrison, VP of Marketing for Antis Roofing & Waterproofing, added, "I am excited to add Akeyy to the Antis team. He brings a wealth of experience in developing and growing successful sales teams to his role as Vice President of Sales at ARW. In addition, Akeyy's involvement will allow me to focus on marketing and continuing to grow the Antis brand."
Akeyy also brings a history of involvement with Habitat for Humanity, who is a major community-outreach partner of ARW, where Antis has donated the labor to install all of the roofs built in Orange County since 2009, and where Mr. Antis currently is on the HFHOC Board of Directors. "I was happy to learn of Akeyy's involvement in Habitat for Humanity. Habitat is big part of who we are as a company. Akeyy compliments our culture at ARW, and understands what is important to us and our clients."
Akeyy has been in sales leadership roles in various industries including financial, software, and construction sales management, with positions ranging from Area Sales Manager at Staples, Thomson-Reuters, and VP of Business Development at Novacore.
Akeyy holds a B.A. in Environmental Economics from Denison University and a MBA in Finance from National University. Akeyy brings over twenty years of managing and building successful sales teams and championing customer service. "I am excited to join the team at Antis Roofing and Waterproofing, Inc. The ARW family has been around for over 20 years, and has a great company culture with a focus on customer service and quality workmanship," according to Akeyy.
About Antis Roofing and Waterproofing Inc.
ARW was founded in 1989 and quickly established itself as a major player in the roofing and exterior shell construction industry in Southern California. Today, ARW provides high value and innovative construction solutions exclusively to homeowner's associations throughout the Southern California region (Los Angeles, Orange, Riverside and San Bernardino counties). Owner and President, Charles Antis, serves on the Community Leadership Training Committee for the Orange County Chapter of Community Association Institute (CAI), as well as on the Board for Habitat for Humanity Orange County. He is also a contributing writer for many leading industry publications. To learn more about Antis Roofing & Waterproofing Inc., visit http://www.antisroofing.com.