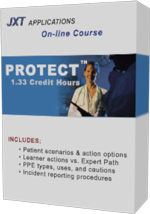 JXT has been instrumental in creating interactive educational materials for health care professionals in areas of particular interest to those involved in emergency preparedness.
- Dr. Katherine Cauley, Wright State University
Dayton, OH (PRWEB) April 15, 2013
JXT Applications, Inc. is now offering an online continuing education course, PROTECT©, and a Smartphone mobile app, Quick Triage Protocols©. These products are available at http://www.jxtai.com.
PROTECT© is an online continuing education (CE) course for Nurses. It contains interactive nurse-patient simulations in Urgent Care, Physicians Office, and School Health Clinic scenarios. It's designed to heighten situation awareness by leading the learner to recognize dangerous situations related to patient conditions, take appropriate safeguards, properly select and use personal protective equipment (PPE) when needed and report incidents to proper authority. In this course, the learner will select the scenario that is most similar to his/her work setting.
Course features include:

Course overview
Breaking news (video to set up the problem)
Interactive, multi-media Nurse – patient scenarios with decision/action options
PPE types, selection, use, disposal, hygiene
Incident reporting procedures
Review of Learner actions taken vs. Expert Path
Embedded Knowledge Tips and Job Aids
Glossary/Bibliography/Documentation
The PROTECT© course is approved for award of 1.33 hours Continuing Education.
This continuing nursing education activity was approved by the Ohio Nurses Association (OBN-001-91), an accredited approver by the American Nurses Credentialing Center's Commission on Accreditation. Approval valid through January 9, 2015. Assigned ONA 15,776-I.
The Quick Triage Protocols© App integrates the S.T.A.R.T. Triage Protocol for adults and the JumpSTART Triage Protocol for children into a single tool to assist first responders in rapid sorting and tagging of multiple casualties and in tracking the number and type of tags applied. It's primarily intended for use by First Responders, including Community Emergency Response Teams (C.E.R.T.), Medical Reserve Corps (MRC), Disaster Medical Assistance Teams (DMAT), Red Cross and others who may become involved in supporting EMTs and Paramedics in the triage and tagging of casualties during a mass casualty incident/disaster response event.
The Quick Triage Protocols© App enables the First Responder to:
Review triage principles, protocols and how to use the features of the app.
Select the triage protocol to use (START/JumpSTART). Protocols are presented in an if/then decision tree format and include victim tagging information.
Apply appropriate tags to victims in accordance with the selected protocol.
Record and save the type and number of triage tags applied to adults and children.
JXT Applications will be announcing the release of other online training courses and Smartphone Apps in the near future.