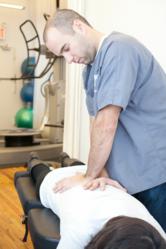 ...we understand the root of their problems from across various medical disciplines. Its going to be a fun event
New York, NY (PRWEB) April 05, 2013
Chiropractor Dr. Steven Shoshany has been working with athletes for years and has been providing chiropractic, advanced therapeutic taping, and even sports massage therapies to athletically inclined individuals. He will be bringing a whole team of specialists including a Physical Therapist and a Massage Therapist, to the event.
The Civilian Military Combine is lauded for its work to bring military style fitness challenges and the spirit of hard work and dedication to everyone. Its received a lot of attention recently for attracting some very athletic people to its signature events. A concept that has appealed to a broad spectrum of enthusiasts from weekend warriors to die hard Crossfit enthusiasts, it is an obstacle course adventure race that is geared towards testing how well rounded an athlete really is. The Civilian Military Combine is also affiliated with Operation Home Front and Heroes of Tomorrow, two charities that help military members and their families.
The race event will be held in a very unique venue, the USS Intrepid Sea Air and Space Museum. The event is comprised of an endurance event with military style obstacles along the way, and also has a strength endurance event known as The Pit. "This race structure has been carefully created, refined and reviewed by the top strength and conditioning coaches from the Cross Fit community, United States Armed Forces and USA Triathlon Organization Race Directors." _Civilian Military Combine official website.
Dr. Steven Shoshany and LMT David Vargas were on hand at the first CMC event in Brooklyn to provide their services to the competitors by providing them with therapeutic assistive taping, for which they relied on Rock Tape and their high quality tape, Active Release Techniques, and advice on sports related trauma and therapies.
For the latest event Dr. Shoshany will be bringing an integrated team of specialists to the Intrepid. Dr. Shoshany works alongside other chiropractors, medical doctors, massage therapists, and acupuncturists to provide a team oriented approach to dealing with a variety of painful conditions. Hoping to bring a compact version of his cutting edge practice to provide competitors with a unique experience, Dr. Shoshany will be bringing his go-to massage therapist as well as a physical therapist to assist people with whatever they might need before and during the race. The team will be providing chiropractic adjustments, Active Release Techniques (ART), assistive taping using Rock Tape, and advice on sports and other athletic injuries, especially those of the shoulder, back, hip, knee, and ankle. Massage therapist David Vargas, a former personal trainer who is a dedicated fitness enthusiast was excited to return to the CMC: "Whatever questions or concerns the participants are going to have, we're going to be able to answer them, not just because we treat athletes or lift weights, but we understand the root of their problems from across various medical disciplines. Its going to be a fun event." _David Vargas.
The Civilian Military Combine event will take place on Saturday April 5th, on board the USS Intrepid.