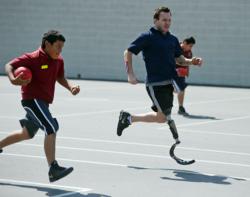 "John Siciliano, you have changed my life, You have shown me a lot of stuff I didn't know about exercise. I also learned that people could succeed through life even though you had gone through troubles."
Los Angeles, CA (PRWEB) April 05, 2013
Ready, Set, Gold!, (RSG!) the only program of its kind in the country, tackles the epidemic problems of childhood obesity and diabetes by pairing Olympians and Paralympians with 50 Los Angeles area public schools, 96% of which are Title 1 in the Los Angeles Unified School District (lausd). The RSG! mission is to increase the state-mandated Fitnessgram scores and promote student fitness, nutrition and a healthy lifetime lifestyle in the 5th, 7th and 9th grade physical education classes which are required to take the Fitnessgram test annually. Each Olympian/Paralympian is matched to a specific school and meets with their students five - six times during the school year to inspire, educate, empower, and motivate them toward a long and healthy life.
We have submitted Ready, Set, Gold! in the LA2050 challenge. The challenge is spearheaded by the Goldhirsch Foundation and the winner receives up to $100,000. As a non-profit organization, getting funding is huge and could be key to the continuation of Ready, Set, Gold! in the 2013-2014 school year.
We need everyone's support. Here's how to help in less than one minute:
1. Starting Tuesday, April 2,2013, through the April 17, 2013, click this link http://myla2050.maker.good.is/projects/ReadySetGold and vote for RSG!
2. Please share the link with family, friends and colleagues. Remember, everyone can only vote once, so please be sure to let all friends/family and colleagues know and spread the word.
FYI - sometimes the link does work on Internet Explorer, so try using Google Chrome, Safari or cast votes from an iPhone.
Thank you. For more information, please visit Ready, Set, Golds! website.