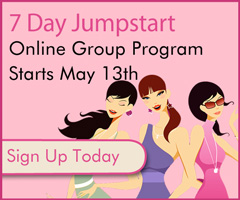 "Most women with PCOS do not know that there are natural, and very effective ways to manage PCOS symptoms, without medication."
(PRWEB) April 05, 2013
PCOS Diva.com announces today that registration is open for the 7-day online group program (PCOS Diva Jumpstart). The program begins May 13th, 2013. This program is dedicated to helping women manage Polycystic Ovarian Syndrome (PCOS) naturally, without medication. PCOS is the leading cause of infertility in women, and is estimated to affect more than 10% of women worldwide. If left unchecked it can lead to a greater risk of chronic illness like diabetes and heart disease. Amy Medling, CHC is a Certified Health Coach and founder of PCOS Diva.com She has helped over 600 women learn how to manage their PCOS symptoms naturally in just 7 days during the PCOS Diva Jumpstart Program.
Women with PCOS are typically treated with birth control and insulin sensitizing medicine, which many women can't tolerate or these treatments prove to be ineffective in managing PCOS.
"Most women with PCOS do not know that there are natural, and very effective ways to manage PCOS symptoms, without medication. The Jumpstart Program is a wonderful opportunity to teach women with PCOS that there are natural ways to feel better and reduce PCOS symptoms, such as obesity, infertility, adult acne, as well as, an increased risk of heart disease, cancer and diabetes, and more. This program shows women a way out of the fear, fatigue and endless overwhelm about food and health", says Amy.
Previous Jumpstart client Toni says, "PCOS Diva's Jumpstart Program is a great way to begin a change in lifestyle. In just one week, you begin breaking bad habits and start creating a new, nourishing routine. Amy is available, as well as other participants to provide fresh ideas and suggestions…or simply provide emotional support. This is one of the best benefits of the program! The Jumpstart Program is equipped with tools that accommodate any schedule or personal preference, so you're able to tailor it to best suit your lifestyle."
The Jumpstart Program is an online group health coaching program that can teaches women how to manage their PCOS symptoms. This program can help eliminate PCOS symptoms such as, sugar cravings, irregular cycles, fatigue, acne, irritability and moodiness, as well as, bloating and weight gain.
During the online Jumpstart Program, clients receive specific instruction on how to reduce their PCOS symptoms using natural methods. The Program includes a Preparation Guide, Program Guide, 7-day Spring Meal Plan, Shopping Lists, Recipes, daily inspirational emails and videos, webcast training calls and online community support.
For more information about the program and how to sign up, visit our website at http://pcosdiva.com/jumpstart
PCOS Diva.com is a positive place for women with Polycystic Ovarian Syndrome to go to seek support and information on how to manage their PCOS naturally. PCOS Diva.com helps women with PCOS reclaim their fertility, femininity, health and happiness.