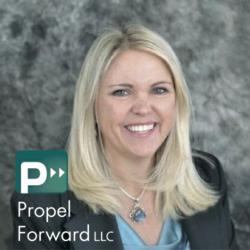 If the founder does not shift their leadership style to align with their business's growth phase, chaos will soon ensue.
Chicago, IL (PRWEB) April 09, 2013
As successful small businesses grow they become more complex. This complexity will require the founder to shift from an entrepreneurial style to a more corporate style. Many entrepreneurial leaders avoid this shift because they erroneously assume that adding more formal processes and systems is equivalent to adding bureaucracy. If done correctly and with a focus towards maintaining the company's entrepreneurial spirit, bureaucracy will not result. However, if the shift is not made, chaos will soon ensue.
Here are some ways to tell if a company has outgrown the entrepreneurial leadership style:
1. The team is questioning the future direction of the company. There may be staff members who are pitching new markets or new products that may or may not align with the original start-up vision.
2. The culture of the company is shifting on its own. The addition of employees is creating a culture different from the start up culture and longer-term employees are complaining that the culture is not the same.
3. People are unaware of what others in the company do. Conflicts may arise from duplication of roles or from gaps where no one is taking responsibility.
4. Informal communication is no longer working effectively. People tend to have different interpretations of the reasons behind key decisions or are not informed of key changes.
5. Managers spend the majority of time in tactical execution with little or no time for strategic activities. There may be routine staff meetings but meetings to monitor and address strategic initiatives that cut across groups are missing.
If these symptoms are showing in the organization, it is time to integrate a corporate style of leadership with the entrepreneurial style. This will require the leadership team to change their perspective and do some essential work to build capability. Setting the vision for the future is a crucial first step and will serve as the foundation to everything else. For example, culture, organizational structure and process flow should all align to the future vision. The strategies, actions and company success measures should likewise align to that vision. Meeting structures should ensure success to this future and not create unproductive rehashing of status updates.
Valuing a corporate style of leadership as well as an entrepreneurial style can be a difficult shift for the founder of a business. Even the greatest entrepreneurs ask for help. Having worked for Intel Corporation for ten years I was always impressed at how Andy Grove was able to keep shifting through the growth phases of the company by asking for help from both external and internal sources. Other entrepreneurs realize the shift is too far outside their strength areas and bring in a corporate style leader to run the firm while they move into a Chairperson's role or exit to focus on creating another start up.
If founders want their company to grow up in revenue, they will need to prepare themselves for the leader-shift that corresponds to the business lifecycle phase they are moving into.
For additional symptoms that will assess if your company needs growth support send an email to Tips(at)Propelforward(dot)com
Propel Forward LLC provide consulting, coaching and workshops to improve a leader's ability to set a vision for their organization and increase their confidence to influence. Owner, Carlann Fergusson has over 25 years experience in corporate leadership. Her clients include Fortune 500 companies, privately held companies, family owned operations and non-profits. She can be reached at carlann(at)propelforward(dot)com or http://www.propelforward.com