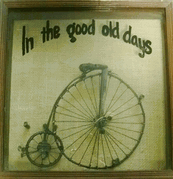 Thornton, CO (PRWEB) April 05, 2013
Oneshotvariety.com recently added unique collectibles to its online collection. With hard-to-find products like a Singer sewing machine from the '50s and a roofing slate from the 1800s, Oneshotvariety.com provides the best products for customer collections at an affordable price.
By searching the world for products, Oneshotvariety.com owner Joseph Caltabiano is able to undercut prices for similar items on other websites. Caltabiano's mind is always on giving his customers the best deal on the Internet, while providing high-quality products.
Along with unique nostalgia items, Oneshotvariety.com offers a full line of new products in a variety of categories. The site's many products include:

Children and baby products—Games and toys are offered on the site at a fraction of the price of the versions sold in stores.
Holiday items—Decorations for Christmas and Halloween are sold on the store, including rare items like collectibles from the early 1900s.
Home products—Oneshotvariety.com features décor, figurines, and other items for the home, including items that are rare.
Health and fitness items—Customers are often looking for discounts on workout videos and sporting activities like golf clubs, and Oneshotvariety.com offers it.
Accessories—Customers can shop for purses, laptop and tote bags, and even children's shoes on the site, all at a fraction of the cost of retail prices.
The site not only includes brand new items, still in the packaging, but used items, as well. The condition of items are listed on each product page. Many vintage items aren't new, but are in "mint" condition, some with certificates of authenticity to add to their value.
In addition to new and collectible items, Oneshotvariety.com offers "oddities," which are items the site knows are hard to find elsewhere. As the site explains, interest in oddities has increased in recent years due to the popularity of TV shows like Oddities and Oddities San Francisco.
The oddities at Oneshotvariety.com range from human bones to taxidermy diorama. To add to its site, Oneshotvariety.com is in the process of adding articles to its site that visitors can read. These snippets often include stories visitors have never heard before, linking to videos and news items that can provide hours of entertainment.
As a complement to its already low prices, Oneshotvariety.com will also feature one product, discounted to show appreciation to its customers. Products will either be offered at a two-for-one deal, with a significant percentage off, or with free or discounted shipping.
Oneshotvariety.com is unlike other online shopping sites because its owner searches the globe for some of the most unique products available. This allows customers to connect with items they likely haven't seen on similar shopping sites, at a rate that is accessible to customers with small shopping budgets.
To begin shopping, visit Oneshotvariety.com and choose a category. Customers may also enter search terms if they are searching for something specific.