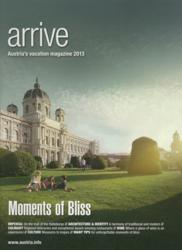 The new campaign provides guidance to potential travelers and offers examples of authentic, hands-on experiences that go beyond the ordinary. - Michael Gigl, Director of the Austrian Tourist Office, North America & Australia
New York, NY (PRWEB) April 09, 2013
In early April 2013, the Austrian Tourist Office launched its new marketing and social media campaign. From the newest boutique hotels in Vienna to the best gourmet destinations in Salzburg, the goal of the "Austria. Moments of Bliss" campaign is to equip travelers with a convenient, well-researched and wanderlust-inspiring collection of recommendations - a roadmap, essentially, for having an unforgettable time in Austria. "The new campaign provides guidance to potential travelers and offers examples of authentic, hands-on experiences that go beyond the ordinary," says Michael Gigl, Director of the Austrian Tourist Office, North America & Australia.
Travelers will find over 250 stories and experiences on http://www.austria.info/bliss, where they can browse among the various categories such as Food & Wine, Art & Architecture, and Hotel Tips. The lively conversation on the Austrian Tourist Office's Facebook page is another source of information, as is the new destination magazine, and the brand-new, free iPad App.
The iAustria App provides helpful information and inspiration for planning a trip to Austria. Travelers can peruse a digital version of the Austrian Tourist Office's latest issue of the "arrive" magazine, a destination magazine featuring a multitude of suggestions and tips for every interest from architecture to outdoor activities. A map feature shows in detail where to find each location. The App also has an "Inspiration" section where one can browse through the most beautiful images from right across Austria and watch short clips highlighting the most popular destinations. In addition, it features carefully curated recommendations on where to stay, what to eat and what to see in Austria. The handy search function helps find the latest brochures and information folders for all major vacation destinations in Austria.
In terms of statistics, Austria is off to a good start of the year. Continuing last year's trend, arrivals and overnights for February 2013 show a significant increase: arrivals (20,600) and overnights (59,800) from the US are up by 15% compared to the same month last year. As the Euro exchange rate remains favorable and demand for Austria products seems to be strong, we are confident this positive trend will continue for the rest of 2013. We're delighted to be contributing with this new campaign.