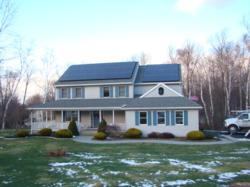 We attended the first solarize Canton meeting and it was a really good learning experience
Canton, CT (PRWEB) April 05, 2013
The strong turnout for the Kick-Off Solarize Canton Workshop held last week demonstrated to town leaders there was real enthusiasm for this innovative program that lowers the cost of going solar through group buying discounts. As a result the Town is hosting two follow up Solarize Canton workshops. The first is on Saturday, April 6th at the Canton Community Center from 11:00am – 1:00 pm , and the next one on April 27th at the same location and time.
The Town of Canton, along with Bridgeport, Mansfield and Windham, and Coventry has been selected through a competitive process to participate in Solarize Connecticut, a State-sponsored program through the Connecticut Clean Energy Finance and Investment Authority that combines town-sponsored education and outreach efforts with a tiered pricing offer from a pre-selected installer to significantly increase residential solar. The more residents participate in the program, the more the price drops, with all residents receiving the lowest possible price for their installation no matter when they sign up for the program. However, residents must sign a contract by July 12, 2013 to qualify.
During the first Solarize pilot, the four participating towns more than doubled the amount of solar during the 20 weeks of the program over the previous seven years. We are hoping for equally exciting results for Canton.
Ross Solar Group is the designated and competitively selected solar installer for the Town of Canton, chosen for their quality reputation, customer reviews and, most importantly, competitive tiered pricing. Following the first Solarize Canton Workshop, Ross has been busy making site visits to Canton homeowners to determine whether their homes are right for solar and able to participate in the program.
In addition to learning about the Solarize Connecticut program, the kick-off solar workshops on April 6th and April 27th will walk homeowners through the basics of solar power, including everything from the technology itself to the various financing options available through Ross Solar Group and CEFIA.
For additional information about Solarize Canton, please contact Toni Bouchard at tbouchard(at)smartpower(dot)org. Those residents who are interested can contact Ross Solar Group directly by calling 203- 512-4500 or visit http://www.solarizect.com/Canton