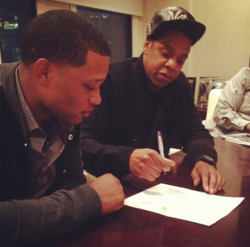 (PRWEB) April 05, 2013
Celebrity and Sports News from Peculiar Magazine covers Jay Z Launching a Sports Management Company called Roc Nation Sports.
The Hip-Hop star has officially announced and launched his sports management company which he named Roc Nation Sports on the 3rd of April 2013 and it was made known that the company is not limited to baseball but also covers all niches of sports including the basketball. He has a clothing line with the name Rocawear, Jay Z is clearly a business minded person and has made it clear with his swerve from music into sports.
The Sports management company has its first official client which is Yankees star Robinson Cano.
Find Excerpts of the article below:
Jay-Z has launched Roc Nation Sports, a full-service sports management company and has signed Yankees star Robinson Cano as its first client.
Roc Nation Sports will be led by the rapper with Juan Perez serving as president. They have partnered with CAA Sports, a division of Creative Artists Agency to co-represent the All-Star second baseman.
"Because of my love of sports, it was a natural progression to form a company where we can help top athletes in various sports the same way we have been helping artists in the music industry for years," Jay-Z said.
Find the rest of the article here
Thank You