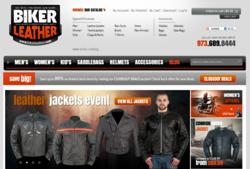 World's Number One Biker Apparel and Accessories Store Online! The Leader In Motorcycle Leather!
(PRWEB) April 04, 2013
Back in 2006 BikerLeather.com was doing really well, except when decision of shutting down the website came across all news headlines. BikerLeather.com is made by bikers for bikers, so there are no gimmicks or tricks when it comes to pricing. Overall, the look of the website is very unique, compared to other biker websites. The feel of the design will have bikers coming back to the website.
The website features all men's apparel and women's apparel including kids apparel like chaps and vests. Under accessories, it is not a problem to find all biker accessories that most bikers ask for. On the right side, BikerLeather.com features a FAQ section which helps with basic questions about the website or products. Mostly important is the sizing chart which is under FAQ as well.
As BikerLeather.com progresses with their start, some of the products are not listed yet, but sources have state that more products are on their way. So, if there is an empty category at a glance come back later during the week. This is mostly due to products arriving late.
Motorcycle season is starting, and bikers are looking for that perfect vest, it is truly recommended by news sources to visit http://www.bikerleather.com. BikerLeather.com is brand new fresh out of box motorcycle leather apparel website, which means discounts and coupons riding.
Other sources just pointed out BikerLeather.com shipping rates, and it seems BikerLeather has them based on table rates. However, when testing the shipping option with their Motorcycle Saddlebag for 100$ and finding out that the shipping is only $14 it is a great steel. Hopefully they don't plan on changing their shipping rates.