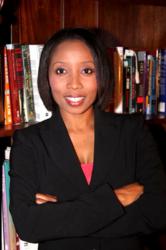 Jacksonville, Florida (PRWEB) April 10, 2013
Consumer Attorney Services appointed Sade Ogunbode-Pfeifer of Counsel in Texas to help process recent foreclosure and bankruptcy cases in April. Consumer Attorney Services selected Ogunbode-Pfeifer because of her robust legal experience and eclectic cultural background.
Ogunbode-Pfeifer encountered many diverse cultures by spending the first half of her life in West Africa. Her main areas of practice include foreclosure defense, family law, consumer rights, debt settlement and bankruptcy. Prior to practicing law, she worked as a special education teacher, and has a background in software development.
She volunteers time with the Lawyer Referral Service of Central Texas and Volunteer Legal Services. She resides on the advisory board of Blueprint Education and also serves as a court appointed advocate with Child Advocacy Inc.
Ogunbode-Pfeifer enjoys presenting on legal topics, such as consumer law, and promotes the development of the next generation of young attorneys by serving as a committee Co-chair for the Austin Bar Association Mentoring Program.
She attained a bachelor's of business administration from the University of Houston and received her juris doctor from the South Texas College of Law. She licensed to practice law in the state of Texas, and also holds a Texas state Mediator certificate.
Consumer Attorney Services knows Ogunbode-Pfeifer's legal skillsets and unique background will help their national foreclosure defense and bankruptcy teams in the processing of new cases in Texas. Consumer Attorney Services has seen a recent influx of foreclosure cases in Texas despite reduced foreclosure rates according to the latest surveys from RealtyTrac.
Consumer Attorney Services is a full service consumer advocacy law firm headquartered in Jacksonville, Florida, helping families with foreclosure defense, debt settlement, bankruptcy law and more.