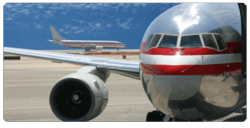 Once your shipment is in AGS' hands, rest assured you will receive the best service as the shipment is managed.
New Hyde Park, NY (PRWEB) April 10, 2013
AGS, one of the leading U.S. based transportation and logistics providers, has been an innovator in providing fast and reliable delivery of aircraft parts and components to aerospace customers all over the world.
AGS' newly expanded range of aerospace services include Next Flight Out, Expedited Heavy Freight, On Board Courier, Air Charter Service, Customs Brokerage and AOG Service. Additionally, they offer 24/7 coverage.
Our extensive domestic and worldwide network of offices and agents, along with our exceptional customer service and customer centric technology, provides our customers with the best in class service available.
New York based AGS, founded in 1958, has always provided efficient, personalized and reliable transportation and logistics service. With more than 125+ offices in North America and agents in over 196 countries, we take the worry out of your urgent domestic and international shipments. Our unique "Whatever it Takes" brand of service has earned recognition for service and quality.
For more information on AGS' full menu of services, call us at 800-645-8300 or visit us online at http://www.agsystems.com.