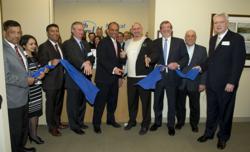 Yorktown Heights, NY (PRWEB) April 05, 2013
Lenox Hill Hospital today announced the opening of its Heart and Vascular Institute in Yorktown Heights -- the first facility for the hospital or the North Shore-LIJ Health System in Westchester County. The opening of the new 3,200-square-foot medical practice reflects the health system's continued efforts to expand its medical services outside of its 16 hospitals and into community settings, where North Shore-LIJ now has about 400 outpatient physician practices throughout the New York metropolitan area.
North Shore-LIJ invested about $1 million to renovate and furnish the Lenox Hill Heart and Vascular Institute at 2649 Strang Blvd. in Yorktown Heights, which includes four procedure rooms outfitted with advanced medical equipment and technology dedicated to cardiac non-invasive testing and vascular procedures. All patients seen at the facility are able to receive specialized testing and evaluation on the premises. Patients have direct access to board-certified cardiologists Varinder Singh, MD, chair of cardiovascular medicine, and director of clinical and interventional cardiology at Lenox Hill Hospital; Binoy Singh, MD, the hospital's associate director of cardiology; and Sabrina Sawhney, MD.
"This is an exciting time for Lenox Hill Hospital and the entire North Shore-LIJ Health System as we broaden our reach beyond our traditional boundaries," said Michael Dowling, president and chief executive officer of the North Shore-LIJ Health System. "Given Lenox Hill Hospital's proximity to Westchester County and the Grand Central Terminal that thousands of commuters from the northern suburbs rely on to get to and from Manhattan, we hope the Lenox Hill Heart and Vascular Institute will be the first of many physician practices we'll be opening in Westchester."
Lenox Hill Hospital was ranked among the nation's top 34 hospitals in Heart and Heart Surgery in US News & World Report's 23rd annual Best Hospitals' edition.
To see a video of this story, go to:
http://www.northshorelij.com/hospitals/video-library?channelId=123432bc283e421da3e31e3377f2c7f6&channelListId&mediaId=92abcd959ff840b4850926c3f7159051
About North Shore-LIJ Health System
The nation's third-largest, non-profit, secular healthcare system, North Shore-LIJ delivers world-class clinical care throughout the New York metropolitan area, pioneering research at The Feinstein Institute for Medical Research and a visionary approach to medical education, highlighted by the Hofstra North Shore-LIJ School of Medicine. North Shore-LIJ cares for people at every stage of life at 16 hospitals, long-term care facilities and nearly 400 outpatient physician practices throughout the region. North Shore-LIJ's owned hospitals and long-term care facilities house more than 6,000 beds, employ more than 10,000 nurses and have affiliations with more than 9,400 physicians. With a workforce of more than 46,000, North Shore-LIJ is the largest employer on Long Island and the third-largest private employer in New York City. For more information, go to http://www.northshorelij.com.