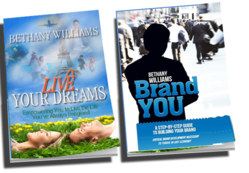 Your challenge is to create a unique brand for YOU or your business that will diffferentiate you and be top of mind when they need your products/services. Bethany Williams
Dallas, TX (PRWEB) April 06, 2013
Brand You and Live Your Dreams author Bethany Williams was listed on "March 2013 Top 100 Branding Experts to Follow" on Twitter by EvanCarmichael.com, one of the world's most popular websites for entrepreneurs.
By inspiring audiences and readers to action, Bethany provides practical tips and life-changing advice through her Winning Strategies book series, her motivational blog, and branding tweets.
Her book on personal branding hit the No. 1 spot on Amazon's new releases in its first week of release. In Brand YOU: A Step-by-Step Guide to Building Your Brand, she helps professionals and entrepreneurs find ways to survive and thrive in any economy. Condensed versions of her advice, and an occasional free book, are available by following her branding tweets here: https://twitter.com/WinLifeStrategy. See for yourself why she is one of the top 100 to follow.
She recently released her fourth book in her Winning Strategies series, Live Your Dreams, so that you too can design the life of your dreams. "Your life is yours to design and nothing is stopping you from living the incredibly fun-filled and exciting life that you were born to live," Williams writes. "You can create a life full of adventure. You can achieve life balance. The journey starts with a dream and ends with making the most of the short life that you have before you."
View a video of the release on her YouTube channel, WinatLifewithBethany, http://www.youtube.com/watch?v=e027qjYH7og&feature=youtu.be.
Williams is a results-oriented executive with 28 years experience driving complex initiatives in the business world. Currently the vice president of product marketing for a hyper growth SaaS company, Bethany has worked around the globe in high-level positions in industry leading corporations such as PricewaterhouseCoopers, Perot Systems, Sharp Healthcare, GE Healthcare, and IDX Systems Corporation. In 2009, Bethany was named "One of the Top 25 Women to Watch" by the Dallas Business Journal. She is a listed speaker for That A Girl and Friends Speakers Agency in Dallas.
Bethany's other published works are Winning Strategies for Women and From Mother to Mentor, Father to Coach. All of her books are available on Amazon.com. For more on Bethany, her books, her motivational blog, and speaking engagements, visit bethanywilliams.org.