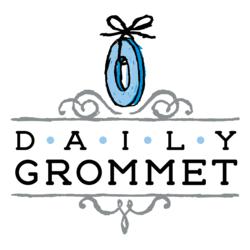 Daily Grommet sees this Grommet as a functional and innovative way to capture beautiful scenes from one's backyard.
Lexington, MA (PRWEB) April 05, 2013
Daily Grommet, an online shopping site and product launch platform for innovative and undiscovered products, is working with bird watching enthusiast to feature new product, Wingscapes, bird watching camera. Daily Grommet sees this Grommet as a functional and innovative way to capture beautiful scenes from one's backyard.
Generations of bird lovers have enjoyed spotting different species in the natural environment and listening for their melodious songs. Today's camera technology makes it possible to add a new dimension to bird-watching that makes it easier and more memorable.
Wingscapes' Audubon BirdCam takes over for bird-watchers when they head indoors. It's a motion-activated digital camera, protected inside a weatherproof housing. It can be mounted in a tree or near a bird feeder, and a motion sensor will automatically take a still picture or a short video (with sound) whenever it detects a bird in its viewing area.
One can also create high-definition, time-lapse video with Wingscapes' TimelapseCam. It takes photos at set intervals and then automatically stitches them together to create time-lapse videos. (It also works for documenting parties, plant growth, weather patterns or construction projects.) Come mealtime, Autofeeder makes it easy to regulate how much food is dispensed and at what times. Birds will get used to the routine, which makes it easier for you to watch them.
Bart Stephens, the founder of Wingscapes, came up with the idea for the BirdCam and TimelapseCam after experimenting with his digital camera's time-lapse setting to capture the scene at his family's backyard bird feeder. By combining motion-activated capabilities, time-lapse photography, and rugged, weatherproof housings, he engineered Wingscapes' family-friendly bird-watching camera.
About Daily Grommet
Daily Grommet is a highly curated online marketplace and launch platform for products of great utility, style or invention that haven't hit the big-time yet. Daily Grommet seeks out these unique products, carefully tests them, and produces a video review of each one telling the story behind its creation. Daily Grommet is rooted in the philosophy of Citizen Commerce whereby regular people form the commerce experience by suggesting products that reflect their values and interests. Citizen Commerce turns the typical top down retailer approach sideways, encourages global product innovation from small producers, and satisfies the consumer's need to know the stories behind and origins of favorite products. The company was also just named one of the hottest sites of 2013 by Internet Retailer. For more information, visit http://www.DailyGrommet.com.