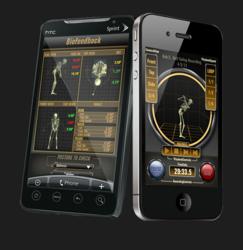 3D SMART Garments are the only products on the market which combine human motion tracking and modifies its recommendations as the person improves," Zig Ziegler, Sports Kinesiologist
Scottsdale, Arizona (PRWEB) April 05, 2013
What if clothes could talk? Would they tell people how they're feeling or when they need to be washed? Maybe they will someday. For now, Arizona-based Performance 3D is working to deliver the world's first talking clothes called 3D SMART Garments. SMART Garments will be available to the average person to help users improve the way their body moves while performing health, fitness, and sports activities, and in everyday life.
SMART Garments from Performance 3D are the first garments that utilize blue tooth motion measurement sensors and smartphones combined with sleek outfits, designed to monitor the body's movements while swinging a golf club, running or walking, exercising in the gym, or sitting at a desk. Performance 3D's patent pending SMART Garments, expected to be released by the end of the summer, will talk to the wearer through software compatible with android and iOS smartphones.
The first products to be released are GolfRite 3D, RunRite 3D, and FitRite 3D, all featuring special patent pending software that records, monitors, and compares any physical activity to ideal human movement, posture, and the body's ideal range of motion.
Once complete, the software for SMART Garments will possess built in features that allow each person to conduct a baseline assessment on their body, identifying exactly what exercises or drills might help them improve their health, fitness, and sports skills.
The most exciting feature available with SMART Garments by Performance 3D is called 'My Coach'. Similar to Siri, on the iPhone 5, 'My Coach' will act as an interactive coach, personal trainer, golf or sports instructor, or human movement specialist. 'My Coach' will use verbal cues to guide the listener through sports rounds, exercise sessions, and every day activities.
"SMART Garments from Performance 3D will allow people to eliminate the guesswork in sports, health, and fitness as their SMART Garments monitor their progress and recommends customized programs to improve how their body moves," said Zig Ziegler, a sports kinesiologist and Director of Performance 3D's technology team. "SMART Garments can help with injuries related to chronic overuse, muscle imbalances, and compensations for weaknesses, as well as help anyone accelerate weight loss and achieve fitness goals."
Performance 3D launched a campaign allowing consumers to help the company complete product development through crowd funding website Indiegogo.com. To learn more about SMART Garments by Performance 3D, CLICK HERE
About Performance 3D
RunRite 3D, FitRite 3D, and GolfRite 3D are products of Performance 3D, LLC.. The company develops and markets products designed to help improve human movement while performing any physical activity including exercises and sports skills, with a goal of improve performance and reduce risk of and prevent injuries. SMART Garment technology enables the clothing to communicate positive and negative information to the wearer about the body's ability to perform a specific exercise, sport-specific skill, or repeatable work task. Performance 3D products are the first affordable SMART garments and SMART technology which incorporate motion capture technology and solution based programs capable of providing unprecedented information to the end user for analyzing the body while performing any activity. Most Importantly, Performance 3D's Clothing SPEAKS!!!
​