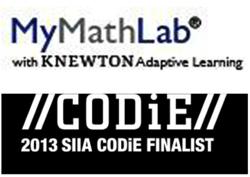 New York (PRWEB) April 04, 2013
MyMathLab with Knewton Adaptive Learning is a finalist in the 2013 Software & Information Industry Association (SIIA) CODiE Awards. MyMathLab is recognized in the Best Postsecondary Personalized Learning Solution category.
Established in 1986, the CODiE Awards celebrate outstanding achievement across the software, digital information and education technology industries. This year, nominated ed-tech products underwent an intensive review by educator judges from around the world.
MyMathLab engages students in active learning using modular, self-paced lessons that are accessible anywhere and adaptable to each student's learning style. Instructors can easily customize MyMathLab to better meet their students' needs. It provides engaging experiences that personalize, stimulate, and measure learning for each student.
MyMathLab has a consistently positive impact on the quality of learning in higher education math instruction. MyMathLab can be successfully implemented in any environment--lab-based, hybrid, fully online and traditional--and demonstrates the quantifiable difference that integrated usage has on student retention, subsequent success and overall achievement. In user case studies, pass rates reportedly increased by 20-30 percent when MyMathLab was an integral part of the course.
The Study Plan feature in MyMathLab uses Knewton's powerful adaptive learning engine that monitors each student's performance and provides personalized recommendations. These recommendations guide students through the contents of the Study Plan, presenting the next objective students are ready to learn. Individualized learning paths, along with course assignments, help students gain comprehensive mastery as efficiently as possible.
Pearson topped the 2013 CODiE Awards for education with 14 programs earning finalist honors. From classroom management and teacher professional development to virtual and mobile personalized learning solutions, Pearson's CODiE finalists are a testament to its commitment to developing innovative education technology solutions that improve student achievement.
In addition to MyMathLab with Knewton Adaptive Learning, Pearson's products moving on to the next round of competition in this year's CODiE Awards include digits, EQUELLA, iLit, Lab Investigator Tools, MyEconLab with Knewton Adaptive Learning, MyFoundationsLab, OpenClass, Pearson Teacher Compass Suite, Pearson iBook2 Textbooks, PowerSchool, Prep for the GED Test: MyFoundationsLab Edition, Propero and Schoolnet.
MyMathLab with Knewton Adaptive Learning and all of Pearson's finalists will now be voted on by the entire SIIA membership to determine the winners in each category. The 2013 CODiE Award winners will be announced at the 2013 Ed Tech Industry Summit in San Francisco on May 6.
For more information about MyMathLab with Knewton Adaptive Learning visit: http://www.mymathlab.com.
About Pearson
Pearson, the world's leading learning company, has global reach and market-leading businesses in education, business information and consumer publishing (NYSE: PSO).
Contact:
susan.aspey (art) pearson (dot) com – 1.800.745.8489