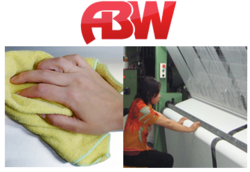 (PRWEB) April 08, 2013
To help facilities like hospitals and hotels save money and to keep more textile products from reaching landfills prematurely, A & B Wiper has started a buyback program. These facilities tend to use mass amounts of cotton mop heads and linens, including cotton towels, sheets, rags and more each year. Since cotton easily deteriorates, stains, and sustains damage, a majority of these products are discarded and new ones are ordered at the end of the year. The buyback program combats this waste.
Facilities of any size that have discarded textile products can join the buyback program. A & B Wiper provides participants with forms and shipping information so that textiles can be sent in to be repurposed and recycled. Credit will be traded that can be used for microfiber cloths and mop products, which clean better and last more than twice as long. This will continue to help clients save money and reduce waste in the future. The credit amount is calculated based on volume, the products that are being discarded, and the location they are coming from; the program begins April 15.
For more information about Best Rags and their new buyback program, visit their website at http://www.bestrags.com/
A&B Wiper
A&B Wiper has collected experience and knowledge about and wiping products and solutions over three generations, and now they proudly offer the largest inventory of off-priced industrial and home terry towels in the US, in addition to a complete line of other wiping cloths for all uses. Whether your company is located on the east coast, the west coast, or somewhere in between, A&B has the products you need and the experience necessary to get them to you when you need them.