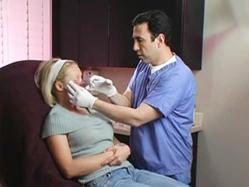 Los Angeles, CA (PRWEB) April 04, 2013
In an interview published in the April issue of Good Health Magazine, Naomi Watts, one of the biggest Hollywood stars, stated that she will never say never to cosmetic plastic surgery and she would definitely not sit in judgment of anyone who chooses to get it done. (Go to: goo.gl/p765U)
"I appreciate Ms. Watts' openness to Botox and cosmetic surgery," says Dr. Simon Ourian, medical Director of Epione Beverly Hills. "I think she'd be a very busy woman if she took the time to sit in judgment of everyone, especially other actresses, who've had work done."
Ms. Watts further stated that the majority of the characters she plays go through some amount of emotional turmoil and it's therefore necessary she be able to convey the required facial expressions. Her fear with plastic surgery and procedures such as Botox and dermal fillers is that they could cause her face to become frozen, which she believes would cause her to lose the right to play that role
She points out that quite a few of celebrities who have opted to undergo plastic surgery have messed up their faces and now have a "freakish look." Ms. Watts says that portraying women who have lived rich lives is really what she is all about and she believes that deeper wrinkles are synonymous with a longer, richer life.
"I respect the choice Ms. Watts is making not to undergo any aesthetic treatment at this time," concludes Dr. Ourian. "Though I believe her fears are based on examples of procedures that for one reason or another didn't go well. Minimally invasive treatments of the kind we offer at Epione are done with the goal of providing natural-looking results. If we've done our job well, the client will look younger and refreshed."
Dr. Ourian has been a pioneer in laser technology and non-invasive aesthetic procedures including Restylane, Juvéderm, Radiesse and Sculptra. These treatments are used for the correction or reversal of a variety of conditions such as acne, acne scars, skin discoloration, wrinkles, stretch marks, varicose veins, cellulite, and others. More information about Naomi Watts and plastic surgery can be found on Epione's website.