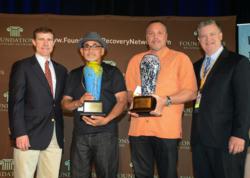 Sean Riley and Henry Lopez exemplify the ideals of the Heroes in Recovery movement
(PRWEB) April 05, 2013
Heroes in Recovery (HIR) is proud to announce the presentation of the inaugural Heroes in Recovery Awards at Foundations Recovery Network's Freedom and Recovery conference at the famed Hotel del Coronado in San Diego, California. Rob Waggener, CEO of Foundations Recovery Network, and Scott O'Grady, following his keynote presentation at the conference, presented the one-of-a-kind awards to Sean Riley and Henry Lopez who exemplify the ideals of the Heroes in Recovery movement.
Sean Riley was recognized for his tireless work associated with changing the public perception of addiction and mental health treatment. Sean is the Founder and Executive Director of Safe Call Now, a confidential, comprehensive, 24-hour crisis referral service for public safety employees, all emergency services personnel, and their family members nationwide. He took his own personal substance abuse problem and found a way to reach out to law enforcement professionals who may find themselves struggling with addiction, but feel they have nowhere to turn due to their line of work. Since the launch of Safe Call Now in 2009, Sean has put 540 first responders into inpatient treatment and assisted more than 6,200 family members with referral services.
Henry Lopez was recognized for his inspiring work in empowering others to be successful in their recovery. As a staff member at the Betty Ford Center, it is estimated that he has helped more than 1,400 patients on their journey to become clean and sober, but Henry's devotion to service doesn't stop when he clocks out of work. Since his own recovery from addiction in 2003, Henry has played a vital role in the recovery of patients at Michael's House, the ABC Club, juvenile halls and prisons. He can also be found sharing his message of hope and courage in police departments and schools.
Heroes in Recovery is a grassroots movement intended to remove the social stigma associated with people who are in recovery, to recognize the heroic effort it takes to overcome obstacles in seeking help, and to celebrate the act of preventing the past from kidnapping the future. According to the National Survey on Drug Use and Health, around 22 million people need substance abuse treatment each year and do not receive it, and according to the Substance Abuse and Mental Health Services Administration, 10 million Americans do not receive needed mental health care. The Heroes in Recovery movement, started by Foundations Recovery Network (FRN), is actively working to break the stigma of addiction and mental illness by educating the community at large and celebrating those on the journey of recovery. They also encourage everyday heroes to share their stories at HeroesInRecovery.com, knowing that each person who does so will encourage others on the road to recovery who may be feeling isolated or alone.
About Foundations Recovery Network: Headquartered in Nashville, TN, Foundations Recovery Network is one of the premier organizations for treating those with co-occurring addiction and mental health disorders. FRN's treatment facilities include Michael's House in Palm Springs, CA; The Canyon in Malibu, CA; La Paloma in Memphis, TN; and full-service outpatient treatment centers in Atlanta, GA; Santa Monica, CA; Memphis, TN; and Palm Springs, CA.
All FRN facilities utilize an integrated treatment approach, focusing on a Dual Diagnosis model for lasting recovery. http://www.foundationsrecoverynetwork.com
For more information, visit http://www.HeroesinRecovery.com
# # #