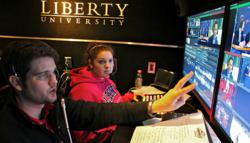 Lynchburg, Virginia (PRWEB) April 04, 2013
Students from Liberty University's School of Communication and Creative Arts are learning every aspect of generating live streams for Flames' sporting events — from camera operation and broadcasting to equipment setup and technical direction.
And in some cases, they are running the show.
Liberty's hockey and men's lacrosse webcasts are produced almost entirely by students. Just this semester, more than 40 communication majors have turned the LaHaye Ice Center, home of the Flames' five men's and women's hockey teams, the Liberty Lacrosse Complex, and other arenas into their broadcasting and digital media classrooms.
Matt Atkins, a junior student director, has had his hand in nearly every facet of producing athletic webcasts, particularly for hockey. He said being thrown into the fire is the best way to pick up the trade.
The school has remained on the cutting edge as far as equipping student-based teams with the skills and systems needed to produce top-caliber webcasts, streamed through http://www.Liberty.edu and the Big South Network.
One particular highlight was broadcasting the ACHA Division I men's hockey final poll and first-ever selection show for the national tournament live from the LaHaye Ice Center. Students got the opportunity to use the university's new 13-foot remote truck, loaded with high-definition equipment. The truck serves as a mobile production room for outdoor or off-site events.
"It was high-def and the league loved it," said Matthew Byrd, a graduate student assistant and director of Club Sports productions. "It's something they want to do in the future every year now because we set a standard."
Chris Ostrander, ACHA's public relations director, said he and the entire league were impressed by the quality of the show.
"It was a terrific-looking broadcast, and the talent on camera and those behind the cameras were all top-notch," Ostrander said. "From the first time we all began discussing how to put this together right up through the broadcast, it was a professional, well-run production."
Byrd has taken the torch from former athletics video content coordinator Dan Crutchfield in supervising students in the field, overseeing their webcasts of everything including soccer games, swim meets, indoor track and field events, and baseball games.
He said hands-on experience is much more valuable than textbook knowledge when it comes time to land a real-world job in the field.
"To be a broadcaster, you've got to be experienced," said Byrd. "You've got to be running the camera and things, actually doing it, because when you get out on the truck, like with ESPN or LFSN (Liberty Flames Sports Network), they don't hand you a sheet of paper and say 'OK, list all these things.' They say, 'OK, there's equipment, now put it together.' You've got to learn that somewhere and that's the goal, for them to learn it here and to get into the truck and be ready to go."
In 2010, the school introduced its first NewTek TriCaster integrated production system, which simulates an audio and video control room. The system offers computer modules that enable portable live production, video editing, 3D animation, and special effects, allowing students to produce high-quality video, text, graphics, and virtual sets.
Liberty now has five NewTek systems, including one that is being used in the new remote truck.
"One of the big things about the NewTek TriCaster is its flexibility and the mobility," Byrd said. "We have mobility with the truck, and then we've got a unit in a case. You can carry it anywhere and set up and connect to things."
Pamela Miller, a professor and director of student programming in the School of Communication, works with Byrd to assign students to events. She said the system is an ideal springboard to the next level of professional equipment.
"The NewTek system is computer-based rather than electronic-based, as with more complicated systems, so kids who are computer savvy can learn it faster," she said. "It simplifies the process and lets students be more hands-on with the equipment."
Simpler software doesn't necessarily mean a sacrifice in quality, however, she said.
Miller estimates 175 communication students have shown interest in producing live events, most of which require 10 to 15 students.
"We have a pool of students developing their skills at this," Miller said. "My job is to figure out how to broaden that pool of students who have been trained and create training modules that get them up to speed."
Class credit is not awarded for production work using the NewTek system, and students are not paid for coverage of Club Sports events, only NCAA Division I games.
"It's mostly on a volunteer basis, for on-the-job training," Miller said.
Byrd helps supervise new students through the training stages.
"If they want to come in right away, they've got to learn the basics," he said. "We'll do workshops with the equipment. We'll play game footage and they can switch on the TriCaster and learn it."
For aspiring technical directors, it's the rough equivalent of aeronautics students using a flight simulator to learn how to operate a plane. It's not long before they're ready to fly solo.
Jordan Bolt, a student producer, said he has gained valuable skills through the opportunities he's had to do live production as an undergrad.
"I've been able to learn and get experience in positions such as director and technical director, which you typically would not have the chance to do until years down the road after you graduate," he said. "I think it is an excellent thing for students to get involved in and learn valuable knowledge that will propel them into the workforce after graduation."
To view webcasts, click on "Live Video" on the individual team pages at http://www.Liberty.edu/CampusRec/ClubSports. Some past productions are also available for viewing online.
About Liberty University
Liberty University, located in Lynchburg, Va., is the world's largest Christian university. Nearly 100,000 students attend classes on its 6,800-acre residential campus and study in its thriving online education program.