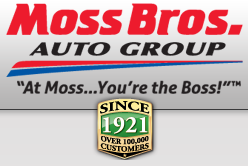 (PRWEB) April 05, 2013
Moss Bros. Auto Group, the leading Inland Empire family of auto dealerships, has recently signed a new sponsorship contract with the Athletic Department of the University of California, Riverside. This new sponsorship will allow the popular auto dealership Group access to advertising space in all of UCR's sporting venues. As long time leaders in the Riverside area, Moss Bros. Auto Group is proud to support their community's local collegiate athletics programs.
The sponsorship is part of a deal brokered between the university's athletic department and the giant local auto dealership Group. The Moss Bros. Auto Group will provide Brian Wickstrom, Director of Intercollegiate Athletics at UCR, a 2013 Honda Pilot EX-L w/ navigation. And in exchange, The Moss Bros. Auto Group will gain access to advertising space in all of UCR's sports venues and tickets to see games throughout the year. The contract is set to cover the next two years.
The Moss Bros. Auto Group has a long history of supporting their community. Originally founded in Blythe, California in 1921, Moss Motors (as it was known) eventually found a new home in Riverside in 1938. Since that time, the popular auto group has grown throughout the Riverside, San Bernardino, and Moreno Valley areas, establishing themselves as the dominant local Auto Group and as staples of the community.
For over 90 years, the Moss Bros. Auto Group have been a favorite for local car buyers searching for the best dealerships in the Riverside, Corona, Ontario, and Temecula areas. They offer high quality new and used automobiles, excellent pricing, financing offers, service and more. Most recently, they launched an exclusive Lifetime Oil & Filter Change program for all customers, beginning January 1, 2013. All customers who purchase a new or pre-owned vehicle and perform factory recommended service at a Moss Bros. dealership will receive complimentary oil & filter changes for as long as they own the car.
The Moss Bros. Auto Group is proud of their new sponsorship with the Athletic Department of UCR, and they look forward to continuing serving their community and to providing best-in-class automobiles to the good people of the Inland Empire and beyond.
About Moss Bros. Auto Group
Since 1921, Moss Bros. Auto Group has been a leading, award-winning dealership network proudly serving the residents of the Inland Empire with quality new and used vehicles. They currently house the largest inventory of vehicles in the Inland Empire at over 1,500 vehicles. They offer 11 manufacturers (Toyota, Honda, Chevrolet, Volkswagen, Chrysler, Buick, GMC, Jeep, Dodge, Ram, and Scion) to choose from, including many sedans, coupes, muscle cars, sports cars, trucks, SUVs, crossovers, hybrids, and electric vehicles. Since their inception, they're served over 100,000 customers from in and around the Inland Empire and beyond. They have an A+ rating with the Better Business Bureau. For more information, visit http://www.mossbrosautogroup.com/ or follow them on Facebook, Twitter, Google+, YouTube or Pinterest.