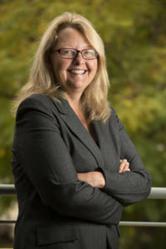 I am excited to work closely with the CGU faculty, especially with the Drucker School's curricular focus on creative industries.
Claremont, CA (PRWEB) April 08, 2013
Claremont Graduate University (CGU) today announced the appointment of Melody Kanschat, a 22-year veteran of the Los Angeles County Museum of Art (LACMA) and a renowned expert in developing capacity in arts organizations, as the executive director of the Getty Leadership Institute (GLI) at CGU. The appointment is effective April 1, 2013.
Kanschat was president and chief operating officer of LACMA since 2005, responsible for its daily operations and a budget of $60 million annually. Previously, she was an executive vice president for administration and external affairs, and led the marketing, membership, and the development departments at the museum.
During her time at LACMA, Kanschat oversaw the expansion of the museum, with the completion of the $150 million Transformation project, part of an overall funding campaign that has totaled $320 million for the museum. The project added more than 100,000 square feet of exhibition space to the museum including the Lynda and Stewart Resnick Exhibition Pavilion (2010), the Broad Contemporary Art Museum (2008), and eight acres of sculpture park and public gathering spaces.
"Kanschat will lead the GLI at CGU into a new era of collaboration; redefining and strengthening its historic contributions to the arts," said CGU President Deborah Freund. "Kanschat's management experience, her connections in the museum field, and her stellar reputation as a leader of complex teams will prove invaluable to the GLI as it re-envisions its future at CGU."
Partnering with the faculty of CGU's Peter F. Drucker and Masatoshi Ito Graduate School of Management to create an executive management program tailored to explore the challenges facing today's museum leaders, Kanschat described her focus as re-energizing and implementing a new strategic vision, strengthening current relationships, and establishing new partnerships and alliances to ensure GLI's programs prepare art museum professionals for the future.
"I am excited to work closely with the CGU faculty, especially with the Drucker School's curricular focus on creative industries," stated Kanschat. "In renewing the GLI's curriculum, we also will partner with the Schools of Arts and Humanities, Behavioral and Organizational Sciences, and the Center for Information and Systems Technologies at CGU."
In 2012, the GLI at CGU received a $1.95 million grant, the second grant from the Getty Foundation. It will fund programming through 2015.
Added Getty Foundation Director Deborah Marrow, "Melody Kanschat has the expertise and collaborative spirit to lead the GLI into a new era. I look forward to the programs she will develop together with colleagues around the world."
Over the decades, the GLI's program has evolved to respond to the growing complexities confronting leaders of museums and other nonprofit institutions. Its signature leadership development program will continue to evolve, utilize a mixture of intensive residential courses, webinars, and online coursework. GLI participants have included high ranking professionals from a variety of museums, non-profit board members, academics, philanthropists, and public officials. More than 1,500 alumni from the United States and 30-plus countries are now engaged with a diverse range of cultural organizations around the globe.
"The GLI's reputation for academic rigor and innovation, CGU's focus on research and management training in the creative industries, and the incredible foundation built by retired Executive Director Phil Nowlen, made this opportunity particularly enticing for me," Kanschat said. "I am eager to connect with old friends and new to deepen and broaden the GLI's impact in the museum field."
A career-long participant and presenter at national, regional, and international museum conferences, Kanschat currently serves on the Santa Monica Redevelopment Successor Agency Oversight Board and the boards of the LA Associates of Save the Children, Arts for LA and Move LA. She received the 2010 Civic Leader Award at the We Love LA event recognizing her commitment to building transportation and cultural infrastructure in Los Angeles.
About Claremont Graduate University
Founded in 1925, Claremont Graduate University is the graduate university of the Claremont Colleges. Our five academic schools conduct leading-edge research and award masters and doctoral degrees in 24 disciplines. Because the world's problems are not simple nor easily defined, diverse faculty and students research and study across the traditional discipline boundaries to create new and practical solutions for the major problems plaguing our world. A Southern California based graduate school devoted entirely to graduate research and study, CGU boasts a low student-to-faculty ratio.
CGU's Peter F. Drucker and Masatoshi Ito Graduate School of Management offers a variety of professional and doctoral degrees, including MBA, EMBA, and the MS in Financial Engineering. It has expanded the traditional path in business education, offering innovative programs, such as the MA in Arts Management, an MA in Politics, Business, and Economics, and its focus on management for creative industries.
Named for the father of modern business management education and world-renowned author and consultant, Peter Drucker, and accomplished global business leader and philanthropist, Masatoshi Ito, the school produces graduates who have a strong sense of social responsibility and a deep desire to make a difference by doing well while also doing good.
Additional information is available at http://www.cgu.edu.
About the Getty Foundation
The Getty Foundation fulfills the philanthropic mission of the Getty Trust by supporting individuals and institutions committed to advancing the greater understanding and preservation of the visual arts in Los Angeles and throughout the world. Through strategic grant initiatives, it strengthens art history as a global discipline, promotes the interdisciplinary practice of conservation, increases access to museum and archival collections, and develops current and future leaders in the visual arts. It carries out its work in collaboration with the other Getty Programs to ensure that they individually and collectively achieve maximum effect.
Additional information is available at http://www.getty.edu/foundation.
About the Getty Leadership Institute
The Getty Leadership Institute (GLI) at Claremont Graduate University (CGU) provides educational opportunities designed to enhance the leadership of experienced museum professionals and strengthen institutional capabilities. GLI's offerings—including transformative educational programs; convening policy makers, academics, and practitioners; and collaborations with international partners—support the museum community by helping current and future museum leaders navigate the field's most pressing challenges and opportunities.
Additional information is available at http://www.cgu.edu/gli.