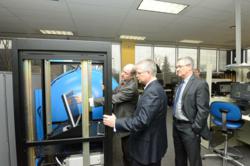 "It's exactly that kind of advanced manufacturing that we should all be very, very excited about because it creates jobs and spurs economic growth." Minister of State for Science and Technology
Ottawa, Ontario (PRWEB) April 04, 2013
The Federal Government of Canada announced an investment in an advanced lighting company specializing in LED bulb technology that reduces production costs, improves consistency of light quality and meets the needs of architects and commercial facility managers. The new bulbs, to be manufactured in North America, will bring domestic jobs and economic growth.
Gary Goodyear, Canadian Minister of State for Science and Technology announced a $150,000 investment in Leapfrog Lighting research and development. He praised Leapfrog Lighting for developing LED bulbs with the "measurable improvement on lighting quality required by facility managers, institutions, architects, retail businesses," as reported in the G4 Report who attended the announcement.
Leapfrog Lighting is known for "specification-grade LED products for industrial, retail and commercial applications" that use "Intelligent Optics to provide architectural quality illumination," according to the Leapfrog Lighting website.
Minister Goodyear also mentioned the "improved glare control, light distribution and color consistency," of Leapfrog Lighting bulbs. Although available to anyone, the Leapfrog bulbs are most popular in commercial applications where there are stringent demands on quality throughout the entire life of the bulb. Leapfrog Lighting's bulbs are expected to have a life as long as 40,000 hours, or 27 years of service if used 4 hours a day.
"Our bulbs are chosen by galleries due to the reliable quality of light," explained CEO Stephen Naor. "Retailers use them in attractively lighting and accenting their merchandise, especially in fashion. Hospitals and casinos use them to save money on energy bills."
During a speech accepting the investment, Mr. Naor indicated that although they already distribute bulbs ideal commercial applications, Leapfrog Lighting intends to be the quality benchmark for years to come.
"Although our bulbs are best on the market today, we're already developing our next generation," said Steve Naor of Leapfrog Lighting Inc. "Our mission is to make the best even better and to reduce costs of production."
Mr. Naor toured Minister Goodyear through R&D and testing labs and demonstrated technology by dismantling a bulb.
"Keep up the good work," said the Minister.
Leapfrog distributes bulbs for commercial applications for various standard existing fixture bases to allow for low-cost adoption of the improved lighting. They market MR16, PAR20, PAR30 and PAR38 lamps. Mr. Naor explained that "commercial applications and even high end uses such as art gallery lighting are possible without any investment in new light fixtures."
Federal Minister Goodyear said, "It's exactly that kind of advanced manufacturing that we should all be very, very excited about because it creates jobs and spurs economic growth—something that the National Research Council Industrial Research Assistance Program is very pleased to support."