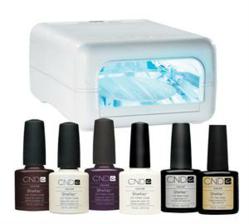 (PRWEB) April 06, 2013
Leading online retailer, eNail Supply has announced they will be offering huge discounts on selected lines of their beauty products for hands feet and nails. The discounts are being applied as a thank you to customers for their continued loyalty. The company announced this news recently after achieving their sales targets in March.
Customers will benefit from discounts on their purchases of CND Shellac, Creative Sentsations and Creative Nail Design products, all of which are amongst the top selling brands for the company.
Highly respected CEO of eNail Supply, Mr Sudeep Arya said, "To reward our customers is the least we can do. Our company would not be successful without them! My management team and I decided the best way to say thank you for a busy March was to offer further discounts on certain popular brands within our online retail store. Creative Nail Designs, CND Shellac and Creative Sentsations products will all be included in the discount bonanza."
The company reported that they always take a great interest in their sales figures, not just in terms of turnover and profit, but also in terms of the popularity of certain products and brands. They use this valuable insight into their customers' spending behaviours as a way to guide them toward discounting the right products and knowing how to gauge correctly the stock levels they will need. It is a highly focussed and effective way of conducting business, particularly online, where they can use the state of the art technology they have invested in to really monitor the sales and analyse the metrics data.
Mr Arya continued by saying, "We have to keep an eye on sales figures, customer buying patterns and of course customer feedback. They are all essential sources of information we use to make the best decisions we can for the company. Here at eNail Supply, we work very hard to maintain our excellent reputation as a quality, trusted supplier to the beauty industry. This is an industry that has stiff competition so we intened to keep our position at the top."
Their loyal customers will soon be enjoying products like CND Shellac from Creative Nail Designs or the Creative Sentsations range at generously discounted prices.
With customers from within the beauty industry and fashion conscious individuals from all over the world, eNail Supply certainly seem to be set to maintain their popularity and their growth in monthly sales.
About us
eNail Supply supplies professional and salon-quality beauty products for the hands, feet and nails. It stocks a huge rand of brands including Nail Polish, Nail Art, Artistic Color Gloss and Gelish for shipping worldwide. eNail Supply supplies to licensed nail technician, aesthetician, depilatory professionals and beauty consultants as well as regular shoppers. It offers worldwide delivery and complimentary help and advice from a team of qualified technicians. Detailed information about discounted products can be found on the website.