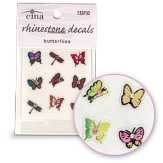 We are delighted to be the top choice amongst our customers! This news tells us that we are giving them the service and quality they demand
(PRWEB) April 07, 2013
A higher number of consumers than ever before are visiting eNail Supply's online store to purchase their hand, feet and nail beauty products. The company were recently chosen as the top choice amongst beauticians and world-wide customers as their first stop for all their nail beauty supplies.
The company are particularly popular for their vast ranges of nail art supplies. In particular, they consistently record high sales for their nail art kits, pens, polishes and nail decals. The company reported sales of nail decals and particularly Nail Art decals as the highest they had ever been.
Mr Sudeep Arya, CEO of eNail Supply said, "We are delighted to be the top choice amongst our customers! This news tells us that we are giving them the service and quality they demand. We have seen over the last few months significant rises in certain beauty brands and we can match this with the healthy sales figures and the feedback from customers. For example, there has been a consistent rise is sales of our Nail Art decals over the last year. It is clearly a highly popular beauty choice amongst our customers and the fashion conscious clients they serve. We have also seen a marked rise in sales of all styles of Nail Art stickers, Nail Art pens two sided and our wide choice of nail decals. My team estimates that sales in these products will continue to grow. As sales grow, so we hope will our customer base. And we will be reaching out to our customers, old and new, to get their feedback and advice on how we can improve. At the moment we are happy to be their top choice but we want to maintain that position."
eNail Supply provide top branded hand, feet and nail products to beauty professionals and the public on a global scale. Now they have been voted top choice amongst their massive customer following, it is certain they will be looking to the future to maintain their lead in the market and to plan for future expansions in order to meet growing demand. It certainly seems that eNail Supply are set to enjoy continued success and popularity amongst their customers. And happy customers means high sales.
About Us:
eNail Supply supplies professional and salon-quality beauty products for the hands, feet and nails. It stocks a huge rand of brands including Nail Art decals, Nail Art Pens two sided, Nail Art stickers, and other nail decals for shipping worldwide. eNail Supply supplies to licensed nail technician, aesthetician, depilatory professionals and beauty consultants as well as regular shoppers. It offers worldwide delivery and complimentary help and advice from a team of qualified technicians.