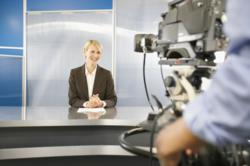 STORM is a "broadcast-first" tool that was road-tested under the rigor of Olympic broadcasting..."
Las Vegas, NV (PRWEB) April 08, 2013
STORM, the Managed File Transfer protocol developed for use at the Vancouver and London Olympics for Japan's largest broadcasting networks is currently debuting in the US at the National Association of Broadcasters show in Las Vegas April 8-11, 2013.
As a proven UDP protocol for the two-way transfer of large data files, STORM provides a number of advantages and benefits for the Broadcast and Media industries, including:

Demonstrated transfer rates between 60-90 Mbps in coverage of major events globally.
Simultaneous packet transfers to multiple locations.
SIMPLE drag and drop operation.
In addition, STORM will be made available as a downloadable app for users of Microsoft Corp.'s Windows Azure Cloud services in May, 2013.
Based on the interest and feedback to date, here are some of the most common questions being received about our US launch:
Q: Why you have chosen NABShow 2013 as the stage to for entering the US Market?
A: We have had great success in the last year in expanding our client base within the Japanese broadcasting industry. While we know that the technical and quality standards in the Japanese market are incredibly high, we chose the US as our first foreign market because we believe the diversity and rapid innovation on the broadcast industry in this market are unlike anywhere else in the world. Naturally, we not only want to be a successful seller in the market, we want to learn from our clients and competitors here as well as we know what we accomplish here can impact us positively in many ways.
Q: What exactly makes STORM a unique product for the broadcast industry?
A: First of all, it was co-developed with one of Japan's leading broadcasters, TBS, specifically to assist with their coverage of the Vancouver Olympics in 2010. This made it a "broadcast-first" tool that was road-tested under the rigor of a high-pressure, large-audience Olympic broadcast. But when they did originally create it, they opted to not use the TCP standard that is most commonly used and opted for utilizing UDP, which traditionally has been seen as a less reliable method for data transfer.
Q: Why was UDP chosen as the core method over TCP? Isn't that somewhat risky?
A: Normally it would be considered a poor second choice by some, but the idea was to take some of UDP's weaknesses and turn them into strengths. While UDP is known for not sending packets in order and for being imprecise from not needing a steady connection, STORM uses those "flaws" as features that allows for a much faster transfer time, guarantees that arriving packets are "whole" (something TCP does not offer), while also solving for the "ordering" issues that traditional UDP solutions were known for.
Q: Aside from the technical background, what other advantages does it have for the non-technical user, particularly in the Broadcast industry?
A: We like to believe we have created a very user-friendly solution. STORM is simple to operate from a user's PC by providing a simple Drag and Drop interface. Users can upload AND download large video files with only a few clicks of their mouse.
We have also provided a one-click method to check on your line performance, settings to limit the bandwidth STORM uses on your network AND a feature designed especially for broadcasters that allows a user to "push" content simultaneously to multiple locations so that it is received at the same time as well. This is especially useful for networks with many local affiliates.
Q: How can visitors learn more during the NABShow?
A: We would be happy to share a demo or discuss anyone's particular challenges at our booth #SL5110. Our online resources at http://www.FastStorm.com also provide options to download technical specs or make an appointment with our team at the NABShow booth for a meeting and a demo.
Unixon System staff are available to meet at the NABShow April 8-10 in Las Vegas. Stop by the booth or reserve a meeting time at http://www.FastStorm.com
About Unixon Systems Co.
Unixon Systems has been operating from Fukuoka, Japan since 1991 with additional branches in Tokyo and Tohoku providing advanced software solutions packaged into over ten unique products widely used in Japan by broadcasters like TBS, TV Asahi Integrated Technology and others including the Japan Aerospace Agency.
Our products like STORM and HOX are the result of our positive, "can do" approach to achieving our objective of being the most reliable, safe and inspiring provider to our clients.
FOR MORE INFORMATION: Please visit our website at http://www.faststorm.com or direct inquiries to us by by e-mail at im.katsuya(at)unixon(dot)co(dot)jp.