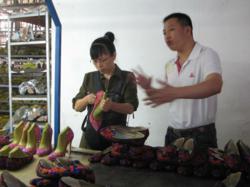 New Footwear Designers are especially likely to misjudge the amount of time needed to work out the design issues.
Guangzhou, China (PRWEB) April 05, 2013
"As shoe manufacturers, we know that the Summer Footwear Collections make up an important part of the annual sales for Footwear Designers and Shoe Retailers and Wholesalers," says Winnie Peng (pronounced 'Puhng') of Shoe-Manufacturer.com, " but when the last minute call comes in frantically saying, 'Can You Make My Shoes!' there's no assurance that shoes manufacturers will be able to create and ship out the shoe order in time to catch the Summer sales season."
"New Footwear Designers," she says, "are especially likely to misjudge the amount of time needed to work out the design issues, make the necessary payment transfers and still have time for the actual shoe manufacturing and shipping, but even seasoned footwear wholesalers and shoe retailers have this problem."
Peng reports that there are four distinct time bocks that footwear designers, shoe wholesalers and retailers need to consider in their planning:

Prototype making, which can take two to three weeks but could involve longer, if a re-make is required.
Funds transfers though the bank, needed before full production can begin and again prior to shipment, requiring a four to eight days each, or more even if all the docs have been prepared correctly (which is often not the case)
Time for the full production to take place to include buying the required materials, typically four to six weeks from the time the pre-manufacturing funds arrive, and
Shipping time, typically one week if an air shipment or four to six weeks to include port time in China and the receiving country plus actual ocean transport time, provided there is no delay by customs authorities.
Peng concludes with these words of caution:
"For Europe and North America, now is really the deadline for submitting shoe orders to still receive them in time for the Summer Selling Season, and for Australia, Africa and South American markets, of course the same applies to orders placed now for the Winter Collections there.
"It's best to remember that in any kind of manufacturing, 'Murphy's Law' always applies:
'If something can go wrong, it will!'
"This will be the case now matter which manufacturer is involved, because no manufacturer whose going to make your shoes can control every possible supply or factory situation.
"The best policy is to plan ahead and give enough time to allow for possible delays to keep from missing important selling opportunities."
About:
Winnie Peng is Senior Project Manager for China Product Sourcing and Marketing Ltd. (CPSM), fashion manufacturer and leading producer of footwear for independent designers and footwear importers around the world, http://www.Shoe-Manufacturer.com, and previously Senior Inspector of Quality Control and Corporate Compliance for Bestseller of Hong Kong, supplier of Bestseller of Denmark, Europe's largest fashion retail group.
Contact:
Winnie Peng
China Product Sourcing and Marketing Ltd.
Email: winnie.chinaproduct(at)gmail(dot)com
Tel (USA) 336-775-8615,
Tel (China)136-6233-4753
Skype: winniethepooh9.
About:
Lexis Global Marketing LLC (LGM), http://www.LexisGlobalMarketing.com, works with client companies to develop and implement their marketing programs and strategies, domestically and internationally,
LGM is also a supporter of the Bee Wise Kids http://www.BeeWiseKids.org educational initiative and curriculum to prevent childhood sexual molestation, and Green Ribbon Schools http://www.GreenRibbonSchools.org , the nation's premier interactive learning site for 6th through 12th graders, a project of 4empowerment, headquarters in Austin, Texas.
Contact:
David Amos, Director
Lexis Global Marketing LLC.
Tel 1-336-817-7376
Email: damos(at)lexisglobalmarketing(dot)com
Address: 931-B South Main St., Suite 154, Kernersville NC USA 27284