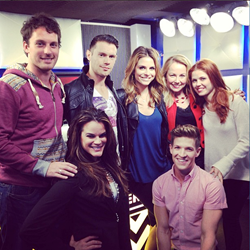 Los Angeles, CA (PRWEB) April 05, 2013
AfterBuzz TV's Dancing With The Stars aftershow was packed Wednesday night as Tristan MacManus and troupe dancer, Henry Byalikov, made an appearance on the network. In the appearance, Tristan talks about his feelings after learned his partner, Dorothy Hamill, had to drop out, and what he thinks of the other couples. Former DWTS dancer, Anna Trebunskaya also joins AfterBuzz TV as a permanent host on the network's DWTS aftershow.
Tristan on the moment he found out Dorothy had to drop out of the competition.
"It's very easy to be quite selfish in a moment like that and go, "Oh well, I was going to win this year." Honestly, I just hope [Dorothy Hamill] gets better cause I know she was in a lot of pain and it's not easy to see every day."
Tristan on How long the DWTS troupe rehearses
"I think a lot of people underestimate the number of hours the troupe do put in though as well. You know there's always that differentiation between the troupe and the pros but everyone's professional."
On whether or not the troupe helps the pros with their dances
Henry: "There are a lot of unofficial hours that go in that direction. Today I was helping Lindsay out with just a few ideas for her work with Victor. Anytime we get asked we will come out and help cause it'll come back one day we'll need some help."
Tristan: "We're all dancing against each other but we're all dancing together as well."
Tristan on whether the scores or comments matter more
"To be honest with you, scores don't really matter. The comments are direct. The comments are about you."
Tristan and Henry on Victor Ortiz and his partner Lindsay
Tristan: "Vic is a funny guy. He doesn't take himself too serious but he tries hard. Like you see him in there, and he goes, you know I was bad this week and he goes I was bad last week but at least I'm happy this week. And he does, he is getting better. Lindsay has a tough job as well, coming in for her first season and being that young coming in and being with someone who is such a dominant figure himself, so she has a lot to deal with. And kind of building someone up like that and that was a test for her. I think it was the first week when he wanted to take a walk…and that's a lot to do. It's great to see them have such a strong performance like that."
Henry: "Working with Lindsay this week was kind of an eye-opener for all of that. And it is hard because he is a boxer, and you kind of expect the movement to be like this and you know actually what was interesting was watching him do choreography. She choreographed a really great routine for him to kind of not only partner but move and actually release some of his movement."
Tristan on DL Hughley and Cheryl Burke
"[DL] is my favorite…I think people don't realize how much it takes to be able to take something like that and be able to come back. It is very easy for him to walk away, and he could walk away. He could very easily walk away and just go you know what I'm over this. And I think sometimes because he is a comic, and you assume he knows how to take abuse from people but that takes an awful lot and certainly throwing himself out there in front of people and granted he had a blip and a go at Cheryl one time...The fact of the matter is he is also there to entertain. And he's entertaining not only the people who follow him, but he's trying to entertain the people who don't like him as well."
Links to the full aftershow can be found on YouTube and iTunes.
YouTube: http://www.youtube.com/watch?v=9oVdmdSu_7Q&list=PLFFA6A105EA48A663&index=1
iTunes: https://itunes.apple.com/us/podcast/dancing-stars-afterbuzz-tv/id427845827?mt=2&ign-mpt=uo%3D4
AfterBuzz TV's Dancing With The Stars aftershow airs live Wednesday nights at 9pm PT and is available for download the next day on iTunes and YouTube. The Dancing With The Stars aftershow is a weekly wrap up show that broadcasts worldwide from Los Angeles, CA as part of Extra's Maria Menounos and filmmaker Keven Undergaro's online broadcast network, AfterBuzz TV. AfterBuzz is dedicated to producing daily post-game wrap-up shows for fans' favorite TV shows, covering shows like The Following, American Idol, WWE Monday Night Raw, House of Cards and countless others. Currently, AfterBuzz TV receives over 20 million weekly downloads on iTunes from over 75 countries. For further information about the network, visit afterbuzztv.com