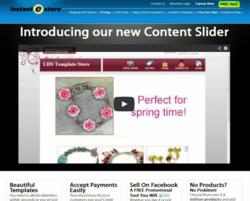 The new slider is offered free to customers using the popular ecommerce platform
Penang, Malaysia (PRWEB) April 11, 2013
InstanteStore recently launched its new content slider. The content slider offers customers a fast and easy way to create beautiful slide shows for them to place on their website. It is offered free to customers using the popular ecommerce platform. A short video on how the new content slider works has been uploaded on to InstanteStore's main site.
Customers will be able to add their own images when creating the slide show. The feature comes with a text editor where customers could type in text that they could customize with the different fonts and color that is available.
Once all the images are added, users will be able to arrange the sequence of the slides by dragging and placing them in accordance to the order in which they would like them shown. On top of that, they could link the different slides to the page of their choice by keying in the URL. Hence when a customer visiting their website decides to click on any of the slides that interest them, they will be directed to the actual page immediately.
The feature was created by the team at InstanteStore to add value to their customers' selling experience online. According to InstanteStore CEO, Charles Tang, the company is always on the lookout to improve the selling experience for their clients. And one of the ways would be to offer high quality sliding images for merchants to use to promote the products that they are selling. Having a content slider displaying beautiful images on one's website will appeal to buyers who are doing online shopping.
Previously, the old content slider that was available only allowed merchants to add images of their choice without being able to edit the text while the process of linking the slides was not as user friendly. With the new content slider, InstanteStore hopes to improve the selling experience for their merchants as well as make it easier for them to use the new feature.
Those who wish to try out the new slider could sign up for a free 30 day trial period which requires no payment commitment unless they wish to start selling online using the shopping cart solution. For more information, please visit http://www.InstanteStore.com