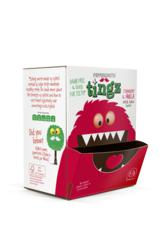 A prestigious award five hours after launch takes some beating and hopefully the innovative packaging concepts will help the brand achieve the sales it deserves.
(PRWEB UK) 7 April 2013
Alexir plays its part in tingz sugar-free sweet's success. These monstrously tasty treats win the Best Confectionery category at IFE 2013 five days after launch.
Alexir Partnership are delighted to have been involved in the conception and production of the tingz counter displays, which are both striking in design and innovative in construction. The two formats – strawberry & vanilla and orange & mandarin – are made from 100% FSC material with a 'tuck' end to allow for the highly functional scoop mouth. The two friendly monsters, Bowie and Floyd, have been designed to sit on a shop counter and allow kids (and grown-ups) to help themselves to their 'monstrously tasty treats'.
tingz are the new sugar-free sweets made from natural, sustainably sourced ingredients from the award-winning company Peppersmith. In fact, they actually help reduce plaque and the risk of tooth decay which is why they have even been accredited by the British Dental Health Foundation. Peppersmith tingz is a genuinely unique product in its category; five hours after its launch it won a Fresh Ideas award at IFE 2013 in the Best Confectionery category.
tingz are sweetened only with xylitol, a naturally occurring sweetener from beech trees, which has been proven in over 300 studies to be effective in helping to prevent tooth decay.
"Studies have shown that xylitol consumption is especially important for emerging teeth, which is why children in Scandinavia are reguarly given free xylitol sweets in schools and nurseries," says Dr Nigel Carter OBE, Chief Executive of the British Dental Health Foundation.
For full dental health benefits, it's best to eat between 5g and 10g of xylitol a day, split into several servings, ideally after meals or other snacks. A bag of tingz contains around 14g of xylitol.