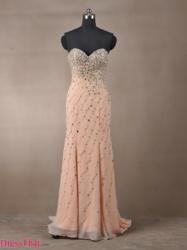 (PRWEB) April 05, 2013
Recently, DressThat.com, a leading online store of women's dresses, has launched its new collection of beach wedding dresses. Today, the company announces great savings on these new dresses, up to 52% off.
According to Peter Wong, a spokesman of the company, the new beach wedding dresses are especially designed for the Summer 2013. They are attractive for the chic colors, trendy designs, and high-quality fabrics. Ladies can find many popular styles in this collection, like elegant sleeveless prom dresses, attractive A-line prom dresses, and more.
"As the summer is coming, beach wedding dresses should become popular. Our beach wedding dresses will stimulate our company's business growth in the next few months," says, Peter Wong. "Now, our wedding dresses' prices very competitive, and we welcome all the people who want to buy discount wedding dresses online to visit our store."
In addition, the company is offering similar discounts on its thousands of prom dresses, cocktail dresses and other special-occasion dresses. What's more, customized dresses can be offered at DressThat.com. They hope to expand our online market.
About DressThat.com
Founded in 2008, DressThat.com is a leading supplier of women's dresses, aiming to offer stylish and high-quality dresses to each woman. The company is supplying a wide range of women's dresses, like discount bridesmaid dresses, cheap prom dresses, and more. Good customer service, high-quality, fast delivery, and competitive prices, are the reasons to choose DressThat.com.