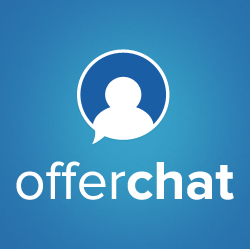 Superior live chat support manifested in chat conversations is a key to generating high-quality sales leads.
Pittsburgh, PA (PRWEB) April 05, 2013
Offerchat, a live online chat platform that allows one-to-one real time chat messaging in E-commerce and business websites, is strengthening its core chat functionality to allow dealers and merchants to capture high-quality sales leads by enabling real time chat conversations in their websites.
A live chat widget embedded on a business website is increasingly becoming the main essential communication platform for merchants and consumers.
It allows consumers to conveniently contact the website owner or a sales support representative directly without leaving the site and without going through more cumbersome methods like email, phone call, tweeting, or sending a message on social sites.
Merchants and traders can field simple questions that bear a huge impact on the critical purchase decision-making process or provide assistance during a block being encountered by a shopper during the crucial checkout process.
Benefits of one-to-one and instant communication aside, a live online chat tool makes it possible for businesses to capture more qualified sales leads. According to a recent study by Auto Trader, one in four chat conversations generate a sales lead.
The Offerchat live online chat tool takes lead capture even further through a feature known as the Pre-chat Form which, when activated, displays a very brief online form browsing consumers need to fill out before they can connect to chat with an agent or a dealer.
This functionality has an email field which business website owners can set as required by accessing their Offerchat control panel or dashboard. Improvements for this live chat feature are set to be released in the coming weeks to better help business owners in capturing leads and staying in touch with their customers.
The company believes that superior live chat support manifested in chat conversations is a key to generating high-quality sales leads for Offerchat users to be successful in their respective trades and enterprises.
Offerchat has displayed keenness on regularly raising the bar of its live online chat tool through ceaseless improvements and updates on its core functionality along with offering a live chat outsourcing service of professional live chat agents adept in online chat customer service that earn high conversions for its clients.
About Offerchat
Offerchat is a free premium live chat for websites specifically designed to help online businesses increase their conversions and sales. The chat tool is easy to add, full-featured and free of charge. Offerchat is brewed to perfection at Click Labs, Inc. a company based in Cebu City, Philippines. The company specializes in driving search marketing and social media traffic, social web app development and conversion optimization. Each product or service specifically helps small/medium website owners increase online visibility and improve online sales.
###