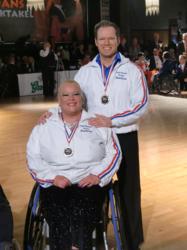 Manchester, UK (PRWEB UK) 7 April 2013
Manchester dancers Gary Lyness and Paula Moulton swept to victory on Easter Sunday when they won the Amateur Latin title for the third time at the Dutch Open Wheelchair Championships held in Cuijk, Holland.
Bringing home another gold medal for Great Britain, Gary and Paula were overwhelmed with their success at the two-day event. In the Ballroom section on the first day of the competition the couple were marked straight through from the first round to the semi-final and went on to take second place in the final.
"We were thrilled to get silver in Ballroom as a great improvement on last year," said Paula.
They were even more ecstatic to win the Amateur Latin competition for the third year running.
The pair's trainer Ray Bulpitt said: "Gary and Paula have put in a tremendous amount of work and it has paid off."
The Dutch Open is the largest Wheelchair Dancesport competition in Europe with over 150 couples competing across different classes.
Gary and Paula have been on a winning streak in Amateur Latin over the last three years and now hold three international Amateur Latin titles, two international Amateur Ballroom titles and have been the UK Amateur Champions for the last two years. They are now set to become the UK's first World Class competing couple in Latin Wheelchair Dancesport!
"It's very exciting, but daunting to be entering the World Class arena after such a short time, but it is testament to our dedication and our trainer Ray Bulpitt," said Gary.
The pair have been dancing since March 2010 after starting classes at the Ray Bulpitt Dancentre as part of a pilot scheme run in partnership with Manchester City Council and the NHS and continuing with local group Strictly Wheelchair Dancing.
Wheelchair Dancesport is dancing with either one or both partners in a wheelchair (manual or electric). It is an extremely popular sport across Europe and countries throughout the world but has not made a big impact in the UK as yet.
"We are determined to raise the profile of Wheelchair Dancesport in the UK as a sport and also as an alternative means of rehabilitation for wheelchair users, where partners or friends can interact on a more personal level unlike some other wheelchair sports or rehabilitation methods," said Gary Lyness, Secretary of the Strictly Wheelchair Dancing Group.
Manchester also plays host to the only International Wheelchair Dancesport competition to be held in the UK, which firmly puts the UK on the map for international competitions. The Manchester Grand Prix Wheelchair Dancesport Championship will take place on Sunday 30th June at the Wythenshawe Forum. The city will play host to competitors from at least 10 European nations and spectators be able to see the world's best Wheelchair Dancesport champions in action.