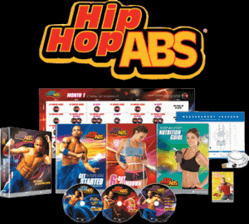 'I have done Turbo Jam and Turbo Fire for a while and I wanted to do something different', a customer, Martha, said. 'It really works!
Atlanta, GA (PRWEB) April 06, 2013
Hip Hop Abs has helped countless get fit through fun, motivating and interesting workouts because it is built around fast-paced dance routines. The program is now on sale for $19.95 from the original price of $59.85 for a limited time by producer Beachbody. In addition to the program price reduction, shipping has been reduced from $12.95 to $6.95 for FedEx ground.
Creator of the program, Shaun T, developed the 6 DVD series after years working as a dancer, most notably as a back up dancer for Mariah Carey. His energy and enthusiasm, as well as humor, made it a huge success amongst women who want to enjoy their time exercising and see results quickly
Many consider Hip Hop Abs to be effective due to the programs ability to help the user develop definition and core strength in the abdominal muscles without using gravity, which can hurt the back. The purported secret to the program is in its most famous technique described by Shaun T as the, "Tilt, Tuck and Tighten system. This is a proven method that "works your abs with every single move." These "Three T's of Shaun T" have propelled him into an elite category of infamous instructors in the health and fitness industry.
'I have done Turbo Jam and Turbo Fire for a while and I wanted to do something different', a customer, Martha, said. 'It really works. In my second week I can see definition in my abs. He really works your abs in every area with the 'Absolute Engagement'". Readers may have heard about Shaun's latest offering to the fitness industry, INSANITY, a high-energy, challenging work out. Hip Hop Abs is a different style,focusing more on dance moves and hip hop choreography. "If you like to have fun and you like to dance, then Hip Hop Abs is the workout for you." Shaun says.
Four DVDs each with a different routine covering technique, calorie burning and ab sculpting are included in the Hip Hop Abs package. The package also contains an extra workout targeting hips, buns and thighs and a range of tools including nutrition plans and calendars to accelerate the track towards a great body. The system also includes the bonus feature of online support with Beachbody's website. – a platform providing interactive tracking of goals, nutrition and social engagement to increase motivation at no additional cost.
Currently TeamBeachbody includes with Hip Hop Abs an additional workout DVD called Hip Hop Abs EXTREME; a full one-hour long cardio and shorter abs workout for extreme results. Customers wishing to take advantage of the price reduction and reduced $6.95 shipping are strongly encouraged to do so only at the official TeamBeachbody retail website.