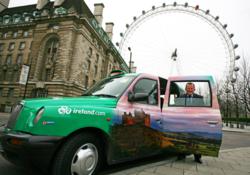 Chief Executive of Tourism Ireland Niall Gibbons is pictured with the taxis in London.
(PRWEB UK) 5 April 2013
London Taxi Advertising have organised branded taxis for Tourism Ireland. The heavyweight campaign will make its mark in the four key cities of Manchester, London, Birmingham and Glasgow, encouraging the urban communities to holiday in Ireland.
The taxis depict a luscious scenic view of Ireland, with endless fields framed by a marbled pink and lilac sky. The serene image is bordered by a patriotic shade of green which performs as a bright platform for the Ireland.com website, accompanied by the name 'The Gathering', which refers to a year-long cultural celebration of everything Irish.
The Gathering marks 2013 as a year for showcasing all aspects of Ireland, from business and sport to national traditions. With 70 million people across the world having Irish blood, Tourism Ireland and Fáilte Ireland (the National Tourism Development Authority) are working together in support of the event and encourage visitation from Scotland and England.
London Taxi Advertising are thoroughly experienced in the taxi advertising industry, enabling Tourism Ireland to successfully implement a full livery campaign which will reach a relevant audience. The targeted cities cover significant points across Scotland and England, raising Ireland's profile as a stunning and enticing travel destination.