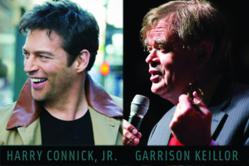 Grand Rapids, MI (PRWEB) April 05, 2013
Frederik Meijer Gardens & Sculpture Park is proud to announce two additional shows of the 2013 Outdoor Summer Concert Series, Harry Connick, Jr. and Garrison Keillor. The complete lineup will be announced Thursday, April 11th and promises to be the largest and most eclectic to date.
These two acts join Montgomery Gentry, David Byrne & St. Vincent, Steve Miller Band and Steve Martin and The Steep Canyon Rangers featuring Edie Brickell, who were announced in March. This will be Harry Connick, Jr.'s first appearance at Meijer Gardens and Garrison Keillor's third.
Harry Connick, Jr.
July 17
With three Grammy awards, two Emmys, two Tony nominations, induction into the Hollywood Bowl Hall of Fame and more than 28 million albums sold, Harry Connick, Jr. has made a lasting impression on the entertainment industry over the last three decades. Already well-known within jazz circles, Connick hit the mainstream with the soundtrack to 1989's popular film, When Harry Met Sally. From screens big to small, he has been seen alongside a host of talented actors and actresses since the 1990s.
Garrison Keillor's A Prairie Home Companion Radio Romance Tour
August 5
A Prairie Home Companion's Radio Romance Tour 2013 hits the road this summer, starring host and writer Garrison Keillor, singer and fiddler Sara Watkins, comedian Fred Newman, Rich Dworsky and The Guy's All-Star Shoe Band with guitarist Pat Donohue and violinist/mandolinist Richard Kriehn. It includes two hours of duet singing, absurd improv with sound effects, "Guy Noir Private Eye," poetry, outright foolishness and "News from Lake Wobegon."
Members of Meijer Gardens will be able to purchase tickets during the members-only presale beginning April 27 at 9 am and running through May 10. During the presale, members also receive a $5 discount per ticket. To join or renew before April 27, visit MeijerGardens.org/Membership.
Tickets will go on sale to the general public on May 11 at 9 am. More information on prices and purchasing locations will be available following the release of the full lineup on April 11th.
The 2013 Outdoor Summer Concert Series is made possible in part by Harvey Lexus of Grand Rapids and Meijer, Inc. The media sponsors are FOX 17 and Classic Rock 97 LAV.
# # #
Images available upon request.
About Meijer Gardens' Amphitheater
The 1900-seat amphitheater is general admission. Concertgoers are welcome to bring a blanket or low-rise chair to sit on. Low-rise chairs are defined as 12" maximum from ground to front of seat bottom and 31" maximum to top of chair back in highest position. These rules are strictly enforced. No other chairs will be permitted in the venue. A limited number of standard-height chairs will be available to rent for $5 (located in designated area-may not be removed) on a first-come, first-served basis. All concerts are rain or shine-weather delays possible. A selection of sandwiches, snacks, water, soft drinks and alcoholic beverages are available at the concessions counter. All beverages purchased here must be consumed inside the amphitheater gates. Concertgoers are also welcome to bring their own food, bottled water and non-alcoholic beverages. No glass or refillable containers are allowed. All beverages must be in their original sealed containers; any liquids in unsealed containers must be discarded at the gate before entering.
About Frederik Meijer Gardens & Sculpture Park
One of the world's most significant botanic and sculpture experiences, Frederik Meijer Gardens & Sculpture Park serves more than a 550,000 visitors annually. Meijer Gardens was recently ranked in the top 100 most-visited art museums worldwide by "Art Newspaper," the leading publication in global art news. The 132-acre grounds feature Michigan's largest tropical conservatory; one of the largest children's gardens in the country; arid and Victorian gardens with bronze sculptures by Degas and Rodin; a carnivorous plant house; outdoor gardens; and a 1900-seat outdoor amphitheater, featuring an eclectic mix of world-renowned musicians every summer. The internationally acclaimed Sculpture Park features a permanent collection including works by Rodin, Oldenburg, Moore, Bourgeois and Plensa, among others. Indoor galleries host changing sculpture exhibitions with recent exhibitions by Picasso, Degas, di Suvero, Borofsky, Calder and Dine.