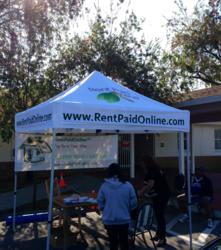 RPO was created with an ear to the customers needs, years of experience in the industry and technical expertise. Our mission is to be the best total solution provider in the rental industry
Clearwater, Florida (PRWEB) April 09, 2013
Steven J. Foster, Chief Business Development Officer ~ EVP, RentPaidOnline,(RPO) a service of EFX Financial Services completed a "raising awareness" visit to South Florida last week. Foster took part in Resident Events in Miami and Key Largo where in addition to sponsoring drawings he had the opportunity to present RPO to Property Managers and Residents.
RPO is a real time web based and mobile platform for electronic check, credit card and cash payments for the property management industry. RPO was developed as an environmentally friendly green enterprise. Foster explains," RPO was created with an ear to the customers needs, years of experience in the industry and technical expertise. Our mission is to be the best total solution provider in the rental industry".
Residents and Property Managers were especially impressed with functionality and ease provided by the Iphone and Android applications in managing both payments and collections. Steven Foster states "I am encouraged by the positive reception of RPO on this visit and we will continue with monthly "raising awareness" visits across our country.
About RentPaidOnline™
EFX Financial Services Inc. was founded in 2006 and processes hundreds of millions of dollars in transaction volume annually throughout the United States and Canada. The key advantages of the RentPaidOnline service are our multiple, innovative, one of a kind payment channels and our "think outside the box" mentality to ensure our clients are always heard first and foremost. RentpaidOnline is introducing many first of its kind technology's such as Jumio's Netswipe™ technology for a truly mobile solution, and our marketing engine to ensure our clients obtain and maintain the adoption they desire. EFX Financial Services corporate office is located in Clearwater, FL. EFX Financial Services also has additional offices in Jacksonville, FL., Atlanta, GA., Dallas, TX., and Philadelphia, PA.
For more information about RentPaidOnline contact us at 855.PMY.RENT(769-7368) or email us at sales@rentpaidonline.com Renters and Property managers are invited to catch up on all things RentPaidOnline via our Renters Room, Pro's Corner, Twitter, and Facebook.
** Netswipe™ is a registered Trademark of Jumio Inc.